Look out for the Pembrokeshire Produce Mark
This is the logo which signifies a genuine Pembrokeshire experience.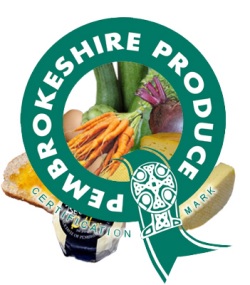 The Pembrokeshire Produce Mark provides an instantly recognisable identity stamp denoting that : -
the produce or product you are buying has been made in Pembrokeshire or
the hospitality establishments displaying the logo use local produce within their menus or
Before being able to display the Produce Mark, all members of the scheme are verified to ensure eligibility.
Pembrokeshire County Council's food officer, Joanne Welch, said she had received feedback from many visitors saying how much the Produce Mark had contributed to their holiday in the County.
"They had eaten local produce throughout their stay by targeting catering and retail outlets bearing the Mark and buying products that displayed the logo" she explained.
"Of course, there is also the loyalty aspect of buying local produce. It has created a brand for people in the county who prefer to support local producers."
There are 280 Pembrokeshire Produce Mark Members.
If you feel your business should be part of the Pembrokeshire Produce Mark identity scheme, or if you would like to nominate a potential member, contact Joanne Welch on (01437) 776169.
ID: 1356, revised 29/09/2022
Print