Haverfordwest Farmers Market
Every Friday from 9am to 2pm
Castle Square, Haverfordwest
Haverfordwest Farmers Market traders are proud to offer their customers the very best of home-produced products and produce every Friday at Castle Square from 9am – 2pm.
Our vibrant market has been running for over 20 years and in all that time, our traders have been committed to offering their customers samples of their wares 'come rain or come shine'!
You are guaranteed to enjoy your shopping experience at Haverfordwest Farmers Market, where you can browse and shop in a friendly, relaxed, welcoming outdoor atmosphere. 
You can be assured of picking up a wonderful array of products when you visit our market too, from freshly caught fish and shellfish, home-made cakes and patisserie items, a fantastic choice of meats such as lamb, beef, turkey, goat meat and pork, including organic options, preserves, cheeses, plants and flowers, alpaca rugs and throws, honey, bread, vegetables, eggs, fruit, gifts and more.
Many of our traders are themselves award winners and passionate about what they produce and make, so don't be afraid to ask about their produce and products; they will be more than happy to chat about what they have on offer and answer any queries you may have.
Card payment options are available at most stalls, and there is a number of banks nearby for easy cash withdrawals. 
If you would like to place orders/arrange deliveries, or wish to have specific cakes made to order etc, please ask our stallholders.  Many will be able do this for you, especially over the Christmas period when you will be able to ask about seafood platters, home-made Christmas cakes and puddings, Stollen and mince pies, veg boxes and gift hampers……..our trader elves will be happy to help!
 GLUTEN-FREE, VEGAN AND VEGETARIAN OPTIONS ARE AVAILABLE FROM SOME STALLHOLDERS AT HAVERFORDWEST FARMERS MARKET
We also offer the option of buying produce through the Haverfordwest Farmers Market food-hub, where many of our stallholders list their products for sale – all you have to do is follow the link https://openfoodnetwork.org.uk/haverfordwest-food-hub/shop, choose your items and arrange for a convenient time to pick them up from the market on Friday.
We look forward to seeing you there.
PLEASE NOTE:  Our market and traders follow all Government guidelines regarding Covid-19 at all times.  Sanitising stations are located within the market area for our customers.
Visit the Haverfordwest Farmers Market Facebook page for all the latest information about stallholders, produce, products and promotions.
Not all stallholders attend on all market dates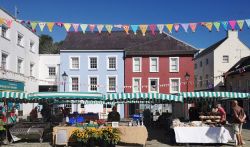 For more information, please contact
Joanne Welch ( Food Development Officer ) on ( 01437 ) 776169
E-Mail : joanne.welch@pembrokeshire.gov.uk
ID: 1348, revised 04/05/2021
Print