Working with Learning Disabilities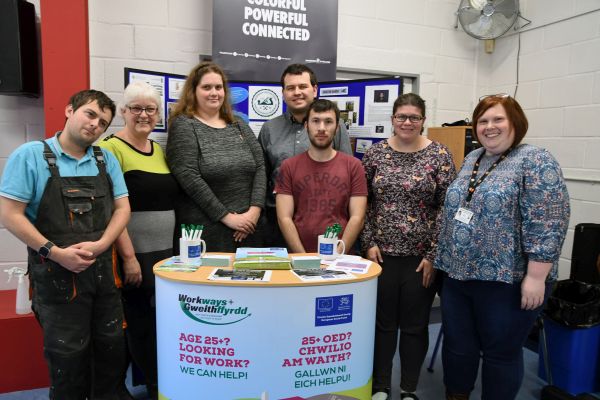 On Wednesday 7th November, Workways+ hosted the Working with Learning Disabilities event at the Social Zone Café in Milford Haven Leisure Centre.
The aim of the event was to celebrate the successes and good news stories of those with learning disabilities in work, volunteering or work experience, as well as employers and supporting organisations.
There were over 30 in attendance, including representatives from Mencap Cymru (who were celebrating Learning Disability Work Week), Norman Industries, E4I2, Access Pembrokeshire Website team, PAVS, Pembrokeshire County Council, Stackpole Walled Gardens and Pembrokeshire People First.
Those in attendance listened to a presentation created by Rachel Bailey and Rhys Eynon, both of whom have recently been employed as Learning Disability champions. Rachel, who has Cerebral Palsy is the employment champion. Rhys, who has Autism is the community champion. Both spoke about they were unsure of gaining paid employment as they felt people would judge them based on their disabilities and not their abilities. Both felt that they could be misunderstood. They went on to say that since gaining employment, they have grown in confidence, are more motivated and feel a sense of pride and purpose in what they do. Unfortunately Rachel was unable to attend the event, however her story was presented by Karen Davies, (Project Manager of Workways+, Norman Industries, E4I2 with Pembrokeshire County Council).
A short video followed, consisting of individuals with Learning Disabilities who have gained work, volunteering, training and work experience through Workways+, Norman Industries, Social Zone Café and the Access Pembrokeshire website. Thank you to the following individuals for sharing their inspiring stories: Siân Andrews, Kath Brookes, Simon Howells, Cheryl Evans (Premier Stores, Neyland), Adam Billington, James McGuire, Callum Edwards, Jack Wood.
The event was catered by staff at the Social Zone Café in Milford Haven Leisure Centre, many of whom have a learning disability themselves.
"I was delighted to attend the celebration on behalf of the PAVS Community Connector project in Pembrokeshire. It was inspiring to listen to Rhys explain how his learning disability will not stop him from having dreams and aspirations, which include paid employment through his new role as an LD Champion – a first for Pembrokeshire". Sophie Buckley, Community Connector – Children and Families, PAVS
"I feel that it is important to focus on a person's abilities not disabilities. I heard someone say the other day that we don't employ someone for what they can't do. This is very true. Individuals are employed for what they can do. By accessing support such as Access to Work and from other organisations, small adaptations can be made which allows employers to open up a pool of talented individuals who want to work and develop their skills." Natalie Morgan, Workways+.
"Mencap Cymru believes paid employment for people with a learning disability is a vital way of reducing social isolation and helping to change the stigma that people with a learning disability face. With the right support people with a learning disability can flourish in the workplace, wherever that may be." Wayne Crocker, Director, Mencap Cymru.
Workways+ is backed by £17.3m of EU funds through the Welsh Government. The project is led by Neath Port Talbot County Borough Council in collaboration with Swansea, Carmarthenshire, Pembrokeshire and Ceredigion County Councils.
If you would like to find out more about the support Workways+ can provide people in Pembrokeshire please contact the team on 01437 776609 or email workwaysplus@pembrokeshire.gov.uk