'Vibrant Food and Drink Scene' celebrated in Produce Mark Awards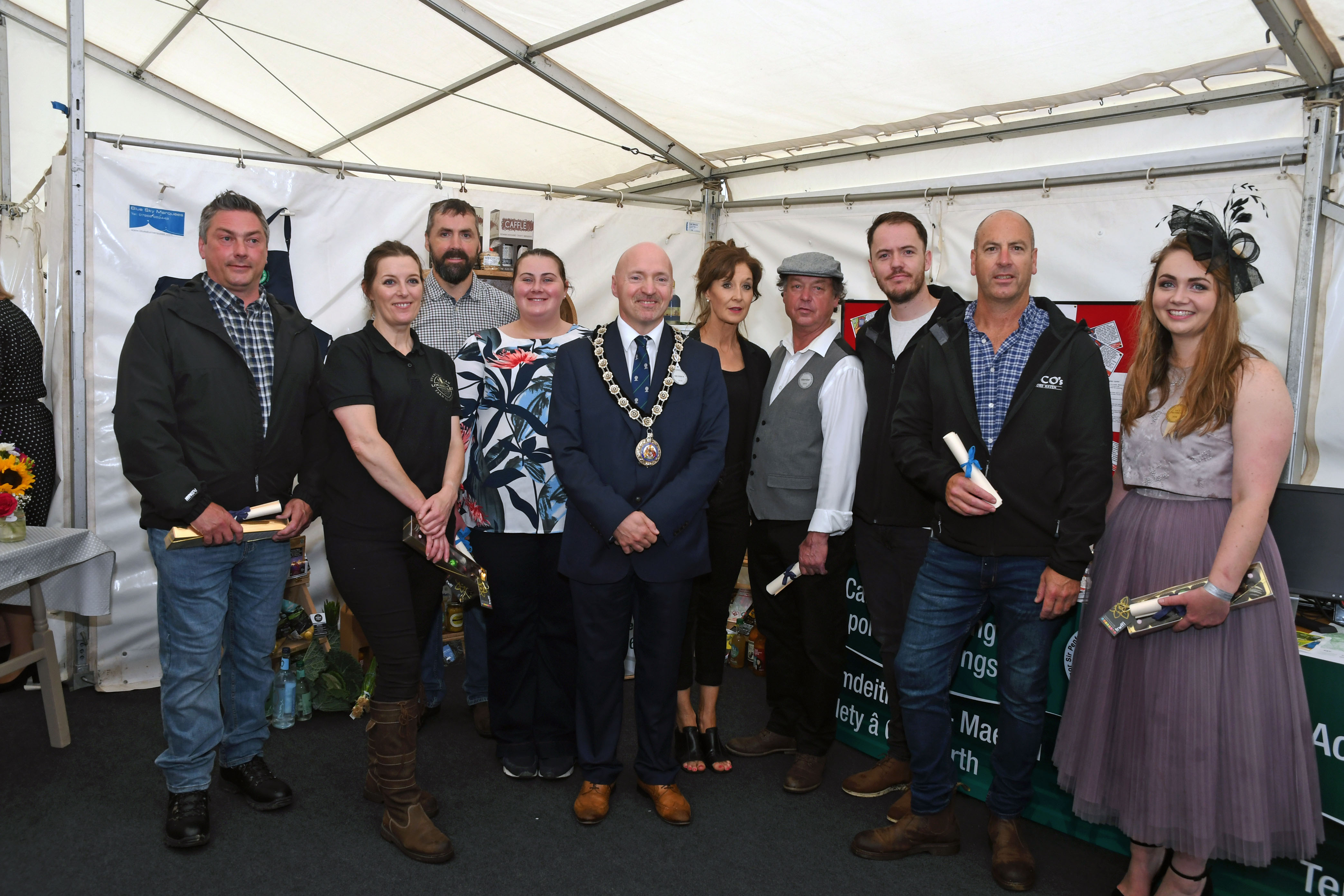 The Oscars of the local food and drink industry – the annual Pembrokeshire Produce Mark Awards – were announced today (Wednesday) at the Pembrokeshire County Show.
Four businesses won 'Best New Product' awards; Cinnamon Grove Gin, Farm Cottage Bakery, Texas Kitchen and Lochmeyler Farm Ice Cream. 
Coco's quayside restaurant at Milford Haven Docks won 'Best Use of Local Produce in a Hospitality Outlet' and farm shop Siop Carla in Maenclochog was awarded 'Best Use of Local Produce in a Retail Outlet'.
The Pembrokeshire Produce Mark scheme and awards are organised by the food team at Pembrokeshire County Council.
Cllr Simon Hancock, Council Chairman, presented the awards and congratulated the winners.
"We have a vibrant food and drink scene in Pembrokeshire thanks to the many talented and adventurous producers, and other who are determined to put local produce at the heart of what they do," he said.
"As a result of their hard work, Pembrokeshire produce is very firmly on the map."
The first Best New Product award went to Cinnamon Grove Farm, which produces handcrafted dry gin in small batches at a distillery on the family farm, using pure water from a 300-year-old well.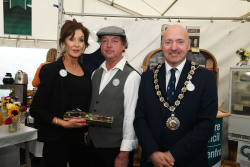 Richard Thomas, who set the business up with his partner Tracey, said the gin's distinctive flavour is thanks to the freshness of the water and the specially selected botanicals.
"We use eleven botanicals in the dry gin and seven in the pink, together with five fruits including blackberries, raspberries and strawberries, which are locally-picked whenever possible," he said.
The product is stocked by some 30 shops across Pembrokeshire as well as bars and restaurants. Supported by their son Dominic, the couple's plans for the future include setting up a new tasting area at the distillery.
Alice Richards of Farm Cottage Bakery, second winner of the Best New Product Award, has wanted to bake for as long as she can remember.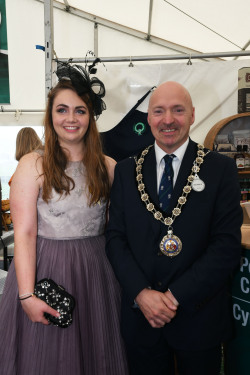 "I'm from a farming family so I grew up with proper farmhouse teas; there was always cakes on the table when I came home from school," she said. "My mum and grandmothers always baked and it's what I've always wanted to do."   
After leaving school, Alice followed her passion and learnt all about baking; working at the Welsh Bakery, taking professional cookery and cake decorating courses, and working at a Danish bakery in Cardiff.
Last year set up her own bakery in a converted cottage on the family farm, making everything from cakes to breads, pastries, doughnuts and puddings.
She already supplies 15-20 outlets, has a stall at Narberth market and takes orders for celebration cakes – but the plans don't stop there. "I'd like a shop," she said. "That's the dream!"
A lifelong passion for another type of cuisine - this time, authentic Texan barbecue – was recognised in the third Best New Product award.
Texas Kitchen, run by Bill Crews, launched its range of spice rubs and seasonings earlier this year, inspired by the barbecues of Bill's childhood in East Texas.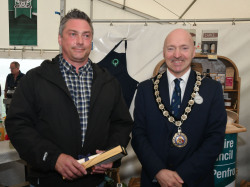 "I grew up in a rural family town with lots of great local barbecue joints," said Bill, who has lived in Fishguard for the last thirteen years.
"Last year I was coming back from a trip with a suitcase full of barbecue spices and rubbings when I had the idea of creating my own range of authentic Texas seasonings for the barbecue and kitchen right here in Pembrokeshire."
Bill set about creating small batches of spice blends with authentic, all-natural ingredients, testing them on family and friends before introducing them to the wider food community.
He now supplies delicatessens, restaurants and butchers and has plans to source more outlets next year.
Lochmeyler Farm Ice Cream is the winner of the fourth Best New Product award.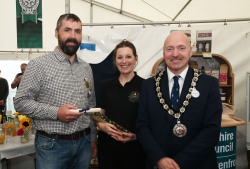 The venture is a successful diversification for farmers Margo and Matthew Evans, who run a dairy farm and holiday cottage business at Llandeloy, near Solva.
The ice-cream is produced using the milk from their 350-strong dairy herd, in flavours ranging from blackberry to pistachio, Pembrokeshire salted caramel and many others.
As well as supplying 25-30 outlets, the couple have opened an ice-cream parlour in Haverfordwest and sell at shows and festivals as well as supplying weddings and private functions. 
Margo said they were delighted with the response from customers. "It's not so much what they say as the look on their faces when they try it!" she said.
Coco's Restaurant in Milford Haven, owned by Chris Vane, won the award for 'Best Use of Local Produce in a Hospitality Outlet'.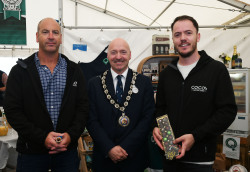 Head chef Ben Gobbi said local produce is 'hugely important to us'.
"We source as much locally as we can," he said.  "Our beef is sourced from Norton Farm in Rosemarket and R. Summons in Waterston; the chicken is from Capestone and the 'catch of the day' is landed at Milford Haven and supplied by Welsh Seafoods which is 200 yards from the restaurant!
"We had St Govans-landed seabass on the menu last week, and Angle seabream before. Our dressed crab and seafood is from Shore in Pembroke, the goats' cheese and halloumi is from Pembrokeshire Goats, and fresh vegetables are from Hook Farm in Ambleston and Peep-out Farm in Portfield Gate."
He added: "We're proud to have so much Pembrokeshire produce on the menu and people are definitely very happy to support it."
Siop Carla is the winner of 'Best Use of Local Produce in a Retail Outlet'.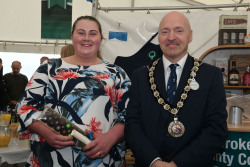 The farm shop is run by farmer and butcher Carla Thomas with her husband Gwilym and wider family at the third-generation family farm Lodor Fach near Maenclochog.
As well as the farm's own beef from their 160-strong herd of Dexters, Preseli mountain lamb, home-cured bacon, home-made sausages, burgers and faggots, there is a wide range of other Pembrokeshire products.
"We have poultry from Cuckoo Mill, Pant Mawr cheese, fruit from Manorbier, locally-grown vegetables where available, dairy from Maenclochog, and a lot more," said Carla.
"I would say over three-quarters of our produce is from Pembrokeshire, and the rest is sourced within Wales."
The shop recently won the Welsh butcher category of the Countryside Alliance awards and Carla says they are getting 'busier every day'.
Joe Welch, Food Officer for Pembrokeshire County Council, praised the award-winners and said they were all 'blazing a trail for local produce'.
The main picture shows Councillor Hancock joined by  Produce Mark Award winners (from left to right) Bill Crews, Margo and Matthew Evans, Carla Thomas, Tracey Davies and Richard Thomas, Ben Gobbi, Chris Vane, and Alice Richards.