Preferred route revealed to public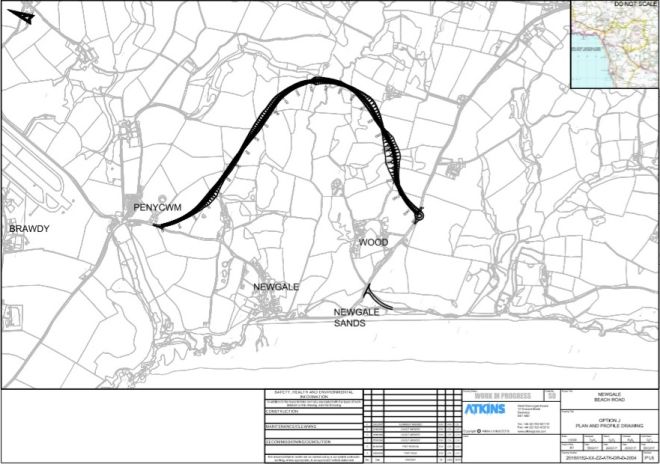 The preferred route for a new road at Newgale has been revealed.
Pembrokeshire County Council made the announcement at a public exhibition in Victoria Hall, Roch, today (Tuesday, September 25)
Hugging the valley above Newgale beach, the preferred option is a two and a half kilometre stretch linking Penycwm with a purpose built roundabout approximately 1km south of Roch.
The proposal, designed to ensure the St Davids' peninsula remains connected during adverse weather conditions and does not succumb to coastal erosion was one of many put forward for public consultation.
The route will be the subject of a future report to the Council's Cabinet, which will also discuss the comments made at the exhibition by the public.
Other options, including the construction of a viaduct a short distance inland and two other routes further inland were also proposed said Pembrokeshire County Council Cabinet Member for Transportation, Councillor Phil Baker.
"Following the storms of 2014 which resulted in this road closing numerous times and taking into account the future effect of climate change on sea levels we consulted with the public on a range of options to ensure the connectivity of this area.
"This route is the culmination of that.
"It carries strong public support, is one of the most cost effective solutions and provides the best access to the iconic views that Newgale has to offer.
"Journey times will also be improved," he added.
"Before making a final decision on the preferred route, I wanted to show key stakeholders and the public the study work we have undertaken and to ask their opinion of the preferred route identified from that work" he added.
If the Cabinet agree, Pembrokeshire County Council will  apply for Welsh Government financial support to undertake further studies of the ground conditions, ecology and environment along the preferred route so that the precise location of the road can be determined.
Detailed surveys of the route will be undertaken as well as drilling some exploratory boreholes as part of the ground investigation.
This work will allow detailed designs of the new road to be developed ready for extensive public consultation before being submitted for planning approval.
The process will require a public enquiry as this is a major scheme within a National Park.
Caption
Unveiled: the preferred new route for the new road at Newgale.