Pianist wows at music festival spotlight concert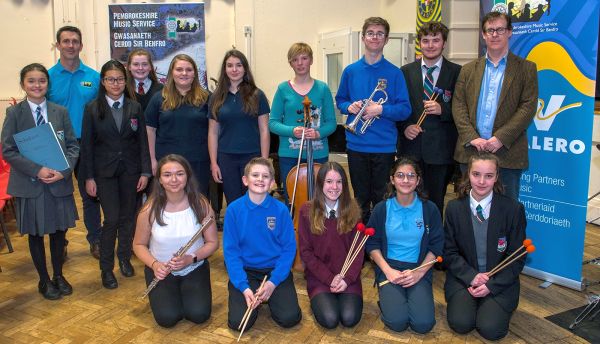 Pianist Elizabeth Morgan from Greenhill School was the overall winner at this year's Secondary Schools Valero Music Festival.
The annual festival, which is organised by the Pembrokeshire County Council Music Service and sponsored by Valero, took place at Haverfordwest High School on Saturday November 17th.
Over 200 young musicians from each of the County's eight county secondary schools, Pembrokeshire College and further afield took part in individual and ensemble competitions throughout the day.
Later in the afternoon, an enthusiastic audience enjoyed a 'Spotlight' concert showcasing the individual winners and the winners of the instrumental and vocal ensemble competitions.
During the concert every performer who was placed 1st, 2nd, or 3rd   throughout the day received a badge in recognition of their achievement.
Music Service coordinators Philippa Roberts and Sarah Benbow said
"This concert is a celebration of the continued hard work and dedication of the young musicians of Pembrokeshire.
"Thanks also go to 'The Friends of Pembrokeshire Young Musicians' for providing refreshments and who continue to support the Music Service at all events throughout the year.
Denis Mahoney, ensemble adjudicator, expressed his admiration for the day.
"This level of achievement is indeed 'bucking the National trend', and can only be attributed to the wonderful teaching taking place, and the fantastic organisation and management of the music service and staff."
The overall winner Elizabeth Morgan was presented with the Tim Bourne Memorial Cup by Head Adjudicator Timothy Angel.
The invited professional adjudicators were - Timothy Angel, vocal; Denis Mahoney ensemble; Peter Fielding, woodwind; Robin Hackett, brass; Karin Jenkins, strings;  Sarah-Jane Absalom, piano, Melanie Walker, instrumental, Max Ireland, percussion and Jazz
The event conclude with County Music Service Manager Ben Field thanking the adjudicators, teachers, parents and students for making the Festival such a success.
Caption
Valero Public Affairs Manager Stephen Thornton together with Ben Field and the winners at this year's competition.
Results:
Woodwind
Grade 3 Clarinet & Sax                      
| | | |
| --- | --- | --- |
| 1st | Toby Williams | Milford Haven |
| 2nd | Bethan Raymond | Milford Haven |
| 3rd | Tal Nicholas | Preseli |
Grade 3 Flute & Oboe
| | | |
| --- | --- | --- |
| 1st | Giselle Jones | Penrhyn Dewi |
| 2nd | Grace James | Milford Haven |
| 3rd | Alex Joseph | Greenhill |
| HC | Sophie Marshall | Redhill |
 Grade 4 Flute & Oboe
| | | |
| --- | --- | --- |
| 1st | Josh Geertman | Greenhill |
| 2nd | Carys Thomas | Redhill |
| 3rd | Livia Pyart | Haverfordwest High |
| HC | Finn Sinclair | Haverfordwest High |
Grade 4 Clarinet and Sax              
| | | |
| --- | --- | --- |
| 1st | Jed Davies | Greenhill |
| 2nd | Megan Wells | Haverfordwest High |
| 3rd | Robert Cecil | Milford Haven |
Grade 5 Flute & Oboe
| | | |
| --- | --- | --- |
| 1st | Jencyn Corp | Preseli |
| 2nd | Megan Shinner | Haverfordwest High |
| 3rd | Charlotte Lewis | Henry Tudor |
| HC | Evie-Jean Davies | Greenhill |
Grade 5 Clarinet & Sax
| | | |
| --- | --- | --- |
| 1st | Dylan Freeman | Henry Tudor |
| 2nd | Elin Kimberley | Penrhyn Dewi |
| 3rd | Lefi Dafydd | Preseli |
| HC | Benjamin Davies | Preseli |
Grade 6 Woodwind                        
| | | |
| --- | --- | --- |
| 1st | Lottie Howlett-John | Henry Tudor |
| 2nd | Martha Owen | Haverfordwest High |
| 3rd | Caitlyn Arran | Milford Haven |
| HC | Rosie Christie | Preseli |
Grade 7 Woodwind                                     
| | | |
| --- | --- | --- |
| 1st | Isabel Howe | Penrhyn Dewi |
| 2nd | Jake Watts | Preseli |
| 3rd | Elen Maycock | Bro Gwaun |
| HC | James Townsend | Haverfordwest High |
Open Woodwind*
| | | |
| --- | --- | --- |
| 1st | Eve Humphries | Pembrokeshire College |
| 2nd | Megan Owens | Milford Haven |
| 3rd | Ella Townsend | Haverfordwest High |
| HC | Georgina Morris | Haverfordwest High |
Brass
Grade 3 Brass
| | | |
| --- | --- | --- |
| 1st | Lily Thomas | Milford Haven |
| 2nd | Owain Williams | Bro Gwaun |
| 3rd | Alice Morgan | Haverfordwest High |
Grade 4 Brass                                   
| | | |
| --- | --- | --- |
| 1st | Joel Oughton | Milford Haven |
| 2nd | Ioan Thompson | Greenhill |
| 3rd | Max Maclachan | Milford Haven |
| HC | Ace Allerton | Milford Haven |
Grade 5 Brass   
| | | |
| --- | --- | --- |
| 1st | Nia Llewellyn | Haverfordwest High |
| 2nd | Iwan Brew | Bro Gwaun |
| 3rd | Morgan Price | Penrhyn Dewi |
| HC | Robbie Davies | Penrhyn Dewi |
Grade 6 Brass   
| | | |
| --- | --- | --- |
| 1st | Marilla Evans | Preseli |
| 2nd | Lucy Anthony | Greenhill |
| 3rd | Rosa Brew | Bro Gwaun |
Grade Open Brass *
| | | |
| --- | --- | --- |
| 1st | Rhys Evans | Milford Haven |
| 2nd | Rhiannon Andrasko | Preseli |
| 3rd | Carys George | Haverfordwest High |
|  3rd | Joe Richards | Haverfordwest High |
| HC | Alys Owens | Preseli |
Strings
Grade 3 Strings                                                                
| | | |
| --- | --- | --- |
| 1st | Lily Mathias | Preseli |
| 2nd | Esyllt Corp | Preseli |
| 3rd | Yasmin Haigh | Redhill |
Grade 4 Strings                                                                
| | | |
| --- | --- | --- |
| 1st | Samantha Semaani | Penrhyn Dewi |
| 2nd | Marilla Evans | Preseli |
| 3rd | Christian Pearce | Penrhyn Dewi |
| HC | Alonwy Roberts | Bro Gwaun |
| HC | Gwenna Maycock | Bro Gwaun |
| HC | Nivetha Athithan | Haverfordwest High |
| HC | Freya Prout | Haverfordwest High |
Grade 5 Strings      
| | | |
| --- | --- | --- |
| 1st | Daisy Whitfield | Preseli |
| 2nd | Connie Haggar | Haverfordwest High |
| 3rd | Jennifer Rees | Redhill |
| HC | Nia Morgan | Redhill |
| HC | Finlay Ryder | Milford Haven |
| HC | Michele Chung | Haverfordwest High |
Grade 6 Strings                                
| | | |
| --- | --- | --- |
| 1st | Emmie Tamilia | Haverfordwest High |
| 2nd | Eve Mathias | Preseli |
| 2nd | Tom Davies | Greenhill |
| 3rd | Seren Griffiths | Preseli |
Grade 7 Strings                
| | | |
| --- | --- | --- |
| 1st | Anna Likeman | Preseli |
| 2nd | William Lewis | Penrhyn Dewi |
| 3rd | Bethan Freeman | Henry Tudor |
| HC | Efa Walker | Haverfordwest High |
 Grade Open Strings*
| | | |
| --- | --- | --- |
| 1st | Mia Childs | Haverfordwest High |
| 2nd | Rhys Lewis | Haverfordwest High |
| 3rd | Rhianna Wade | Haverfordwest High |
| HC | Nia Lewis | Haverfordwest High |
| HC | Joseph Likeman | Preseli |
| HC | Tess Watson | Haverfordwest High |
Piano/Harp
Grade 3 Piano/Harp                       
| | | |
| --- | --- | --- |
| 1st | Esyllt Corp | Preseli |
| 2nd | Isabelle Price | Haverfordwest High |
| 3rd | Nia Williams | Henry Tudor |
Grade 4 Piano/Harp                       
| | | |
| --- | --- | --- |
| 1st | Marilla Evans | Preseli |
| 2nd | Alex Joseph | Greenhill |
| 3rd | Eliza Bradbury | Haverfordwest High |
| HC | Eleri Court | Preseli |
Grade 5 Piano/Harp                       
| | | |
| --- | --- | --- |
| 1st | Jencyn Corp | Preseli |
| 2nd | Jasmine Pugh | Haverfordwest High |
| 3rd | Loti Makepeace | Preseli |
| HC | Nia Williams | Henry Tudor |
Grade 6/7 Piano/Harp                                   
| | | |
| --- | --- | --- |
| 1st | Declan Connellan | Henry Tudor |
| 2nd | Isabel Howe | Penrhyn Dewi |
| 3rd | Nell Evans | Preseli |
 Open Piano/Harp             *
| | | |
| --- | --- | --- |
| 1st | Elizabeth Morgan | Greenhill |
| 2nd | Rhianna Wade | Haverfordwest High |
| 3rd | Mia Childs | Haverfordwest High |
| 3rd | Lefi Dafydd | Preseli |
Vocal

Musical Theatre and Classical Vocal Years 7-9     
| | | |
| --- | --- | --- |
| 1st | Seren Lewis | Preseli |
| 2nd | Phebe Salmon | Bro Gwaun |
| 3rd | Nico Solomon | Milford Haven |
Popular Vocal Years 7-9                                
| | | |
| --- | --- | --- |
| 1st | Catrin Collellan | Henry Tudor |
| 2nd | Phebe Salmon | Bro Gwaun |
| 3rd | Nico Solomon | Milford Haven |
| HC | Seren Lewis | Preseli |
Popular Vocal Years 10-13                                           
| | | |
| --- | --- | --- |
| 1st    | Rebecca Harries | Milford Haven |
| 2nd  | Connor Adams | Henry Tudor |
| 3rd   | Faye Kingston | Penrhyn Dewi |
| HC   | Janthine Aburido | Haverfordwest High |
| HC | Ellie Cleary | Bro Gwaun |
Musical Theatre & Classical Vocal Years 10-13     
| | | |
| --- | --- | --- |
| 1st | Eve Humphries | Pembrokeshire College |
| 2nd | Melissa Fletcher | Pembrokeshire College |
| 3rd | Seren Phillips | Preseli |
| 3rd | Izzy Nixon | Greenhill |
| HC | Isabel Howe | Penrhyn Dewi |
 Open Vocal Ensemble*
| | |
| --- | --- |
| 1st | Haverfordwest High Girls Trio |
| 2nd | Pembrokeshire College Girls Trio |
| 2nd | Haverfordwest High Boys Quartet |
 Open Vocal         *                                                            
| | | |
| --- | --- | --- |
| 1st   | Phebe Salmon | Bro Gwaun |
| 2nd  | Megan John | Haverfordwest High |
| 3rd   | Eve Humphries | Pembrokeshire College |
| HC  | Tess Watson | Haverfordwest High |
Ensemble
Ensemble Grade 5-                                      
| | |
| --- | --- |
| 1st | Milford Folk Band |
| 2nd | Preseli Trio |
| 3rd | Preseli Quintet |
| HC | Pembroke Flute Trio |
Grade 6-8 Ensemble                      
| | |
| --- | --- |
| 1st | Milford Haven Sax Trio |
| 2nd | Ysgol Bro Gwaun Brass Band |
| 3rd | Haverfordwest String Ensemble |
Instrumental Duo                                                                           
| | |
| --- | --- |
| 1st | Rhys Lewis & Rhianna Wade |
| 2nd | Jennifer Rees & Eliza Bradbury |
| 3rd | Molly Gough & Emily Wakely |
| HC | Nell & Marilla Evans |
 Open Instrumental Ensemble*
| | |
| --- | --- |
| 1st   | Haverfordwest High Percussion Ensemble |
| 2nd  | Haverfordwest High Mexican Fiesta |
| 3rd   | Prendergast Flute Trio |
Percussion
Kit Percussion Grade 3-6                              
| | | |
| --- | --- | --- |
| 1st | Hannah Phillips | Henry Tudor |
| 2nd | Oliver Haltham | Castle School |
| 3rd | Caitlyn Arran | Milford Haven |
| HC | Iolo Evans | Bro Gwaun |
Open Percussion*                          
| | | |
| --- | --- | --- |
| 1st | Sara Llewellyn | Haverfordwest High |
| 2nd | Imogen Stace-Smith | Greenhill |
| 3rd | Carys Underwood | Preseli |
| HC | Dylan Sanders-Swales | Milford Haven |
JAZZ
Open Jazz*                        
| | | |
| --- | --- | --- |
| 1st | Dylan Sanders-Swales | Milford Haven |
| 2nd | Noah Yates | Greenhill |
| 3rd | Branwen Vaughan | Preseli |
| HC | Caitlyn Arran | Milford Haven |
| HC | Callum Jones | Haverfordwest High |