Percussionist is Overall Winner at Valero Music Festival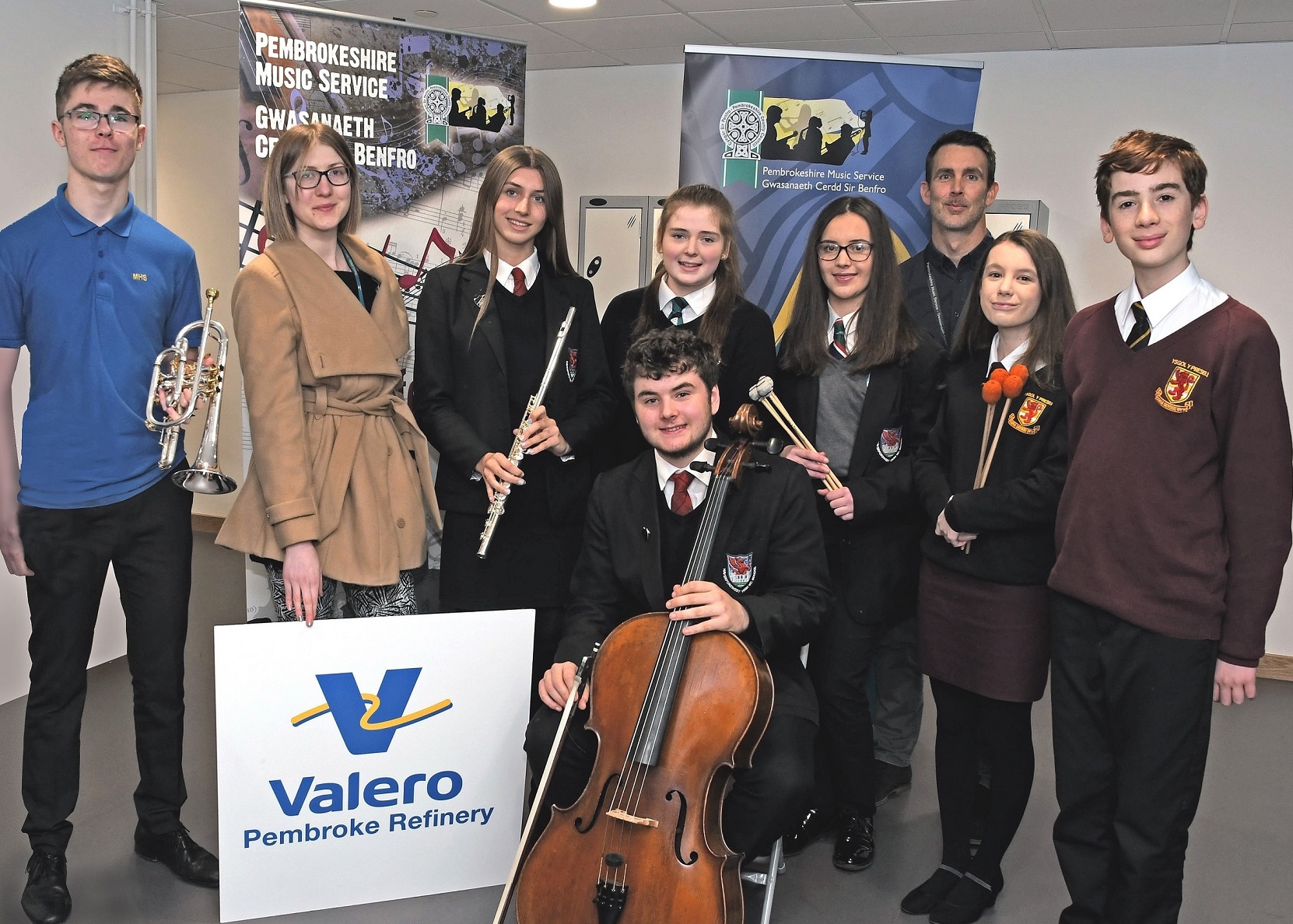 Percussionist Sara Llewellyn from Haverfordwest High V.C. School was the overall winner at this year's Secondary Schools Valero Music Festival.
The annual festival, which is organised by the Pembrokeshire County Council Music Service and sponsored by Valero, took place at Ysgol Caer Elen on Saturday (November 16th).
Over 200 young musicians from each of the County's eight county secondary schools, Pembrokeshire College and further afield took part in individual and ensemble competitions throughout the day.
Later in the afternoon, an enthusiastic audience enjoyed a 'Spotlight' concert showcasing the individual winners and the winners of the instrumental and vocal ensemble competitions. During the concert every performer who was placed 1st, 2nd, or 3rd   throughout the day received a badge in recognition of their achievement.
Music Service coordinators Philippa Roberts and Sarah Benbow proudly said; "This concert is a celebration of the continued hard work and dedication of the young musicians of Pembrokeshire.
"Thanks also go to 'The Friends of Pembrokeshire Young Musicians' for providing refreshments and who continue to support the Music Service at all events throughout the year."
This year the Music Service was supported by Music Young Ambassadors. These are keen young musicians from the Music Service who show initiative and were helpful during the day.
Denis Mahoney, ensemble adjudicator, expressed his admiration for the day.
"This level of achievement is indeed bucking the national trend and can only be attributed to the wonderful teaching taking place, and the fantastic organisation and management of the music service and staff. Please, do all in your power to sustain all you do for the young people in your county. It is indeed incredible!
"Thank you, and Valero, for a wonderful and exciting day. The learners will never forget the day, and their experience of standing up, performing, and in many cases winning, will live with them for the rest of their lives."
The overall winner, Sara Llewellyn, was presented with the Overall Winners' Cup by Head Adjudicator Timothy Angel. Earlier in the day Sara, who won the Open Jazz competition, performed 'Blues for Gilbert' by Mark Glentworth.
Winner of the Open Woodwind competition was Ella Townsend from Haverfordwest High V.C. School who performed 'Concertino' by Chaminade.
The Open String competition winner was cellist Rhys Lewis from Haverfordwest High V.C. School who performed 'Hungarian Rhapsody' by David Popper.
The Open Piano winner was Lefi Dafydd from Ysgol Preseli who performed 'The March of the Dwarfs' by Edvard Grieg.
Rhys Evans from Milford Haven School was the winner of the Open Brass class and performed 'Morceau De Concert' by J.G. Pennequin.
The Open Vocal Competition was won by Phebe Salmon from Ysgol Bro Gwaun who sang 'Llanc Ifanc o Lŷn' gan William Jones & T. Gwynn Jones.
Meanwhile the Open Percussion class winner was Carys Underwood from Ysgol Preseli who performed 'Monograph IV' by Richard Gipson.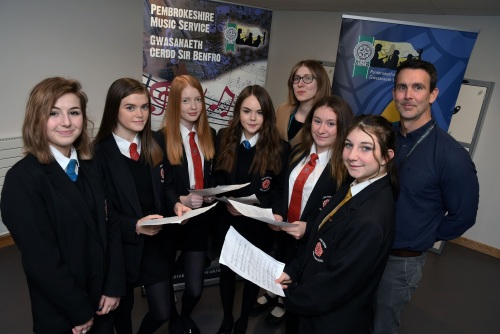 The Open Vocal Ensemble class winners were a Vocal group from Ysgol Harri Tudur (pictured above). Melissa Phillips, Madelyn Wheeler, Catrin Connellan, Megan Thomas, Felicity Lewis and Ruby Tingle performed 'I Won't Say I'm In Love' from Hercules.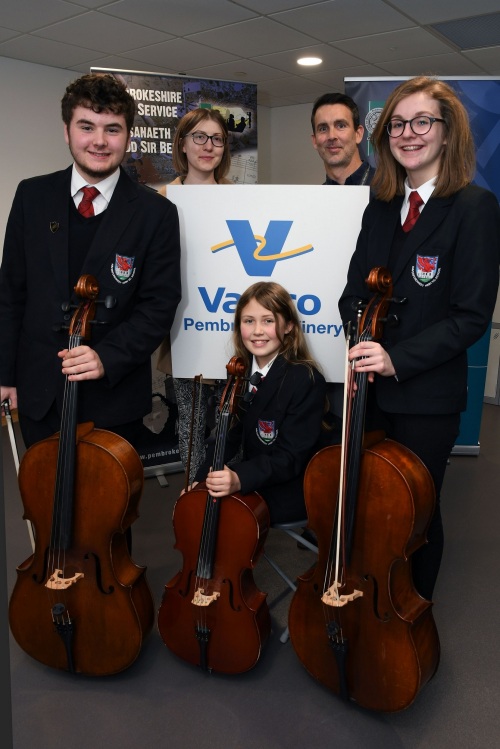 The Open Instrumental Ensemble competition was won by Haverfordwest High V.C. School Cello Trio (pictured above); Rhys Lewis, Rhianna Wade and Mia Burnett, who performed 'Classical Music Mash up' by Grant Willard arr. Rhys Lewis.
The invited professional adjudicators - Timothy Angel, vocal; Denis Mahoney, ensemble; Peter Fielding, woodwind; Robin Hackett, brass; Karin Jenkins, strings; Bethan Harkin, piano and harp; Melanie Walker, instrumental, Nick Baron, percussion and jazz – were greatly impressed with the high standard and strength of schools' music on show from across the County.
County Music Service Manager Ben Field thanked the adjudicators, teachers, parents and students for making the Festival such a success.
"Pembrokeshire Music Service would like to give heartfelt thanks to Valero for their continued and longtime sponsorship and support of this event," he said.
Stephen Thornton, Public Affairs Manager at Valero Pembroke Refinery, said: "We are incredibly proud to support Pembrokeshire's young musicians for another year.
"More than 200 young people took part in the competition, demonstrating the wealth of creativity, dedication and passion across the county.
"It was wonderful to see competitors take on such an exciting variety of musical genres and they did themselves, their schools and their teachers proud."
The main picture shows the winners of each section with Valero's Public Affairs Assistant and Ben Field from Pembrokeshire County Council's Music Service.
The results of the competitions held during the day were as follows:
Woodwind
Grade 3 Clarinet & Sax
| | | |
| --- | --- | --- |
| 1st | Oliver Newboult | Milford Haven |
| 2nd | Martha Lee | Harri Tudur |
| 3rd | Jeny Frayling | HHVC |
Grade 3 Flute & Oboe
| | | |
| --- | --- | --- |
| 1st | Arianne Mabe-Jones | Caer Elen |
| 2nd | Maddie Guy | Penrhyn Dewi |
| 3rd | Enfys Wheeler | Preseli |
| HC | Mared Phillips | Preseli |
Grade 4 Flute & Oboe
| | | |
| --- | --- | --- |
| 1st | Alice Hillen | HHVC |
| 2nd | Megan Thompson | HHVC |
| 3rd | Aimee Kettle | Greenhill |
Grade 4 Clarinet and Sax       
| | | |
| --- | --- | --- |
| 1st | Amelia Faletou | Greenhill |
| 2nd | Annis Henton | Penrhyn Dewi |
| 3rd | Ela-Gwenno-Jones | Caer Elen |
| H.C | Leah Caroll | Harri Tudur |
Grade 5 Flute & Oboe
| | | |
| --- | --- | --- |
| 1st | Livia Pyart | HHVC |
| 2nd | Ella Thomas | Greenhill |
| 3rd | Finn Sinclair | HHVC |
Grade 5 Clarinet & Sax
| | | |
| --- | --- | --- |
| 1st | Robert Cecil | Milford Haven |
| 2nd | Niamh Smith | Redhill School |
| 3rd | Harry Armstrong | Milford Haven |
| HC | Ffion Frayling | HHVC |
Grade 6 Clarinet & Sax           
| | | |
| --- | --- | --- |
| 1st | Dylan Freeman | Harri Tudor |
| 2nd | Rosie Christie | Preseli |
| 3rd | Lefi Dafydd | Preseli |
 Grade 6 Flute & Oboe
| | | |
| --- | --- | --- |
| 1st | Jencyn Corp | Preseli |
| 2nd | Evie-Jean Davies | Greenhill |
| 3rd | Lily Meddings | Penrhyn Dewi |
Grade 7 Woodwind      
| | | |
| --- | --- | --- |
| 1st | Anna Long | HHVC |
| 2nd | Rowan Maclachlan | Milford Haven |
| 3rd | Megan Shinner | HHVC |
Open Woodwind*
| | | |
| --- | --- | --- |
| 1st | Ella Townsend | HHVC |
| 2nd | Nell Evans | Preseli |
| 3rd | Georgina Morris | HHVC |
Brass
Grade 3 Brass
| | | |
| --- | --- | --- |
| 1st | Matthew Flynn | Greenhill |
| 2nd | Rhys Colnet | Preseli |
| 3rd | Ifan Jones | Preseli |
| H.C | Tobias Edwards | HHVC |
| H.C | Faith Barcoe | Milford Haven |
Grade 4 Brass                           
| | | |
| --- | --- | --- |
| 1st | James Goodwin-Close | Greenhill |
| 2nd | Toby Middlemist | HHVC |
| 3rd | Sophie Lewis | Harri Tudur |
| HC | Dee Dee Scarborough | HHVC |
Grade 5 Brass          
| | | |
| --- | --- | --- |
| 1st | Mark Oughton | Home Educated |
| 2nd | Mairwen James | Preseli |
| 3rd | Ifan Evans | Bro Gwaun |
| HC | Joel Oughton | Home Educated |
Grade 6 Brass          
| | | |
| --- | --- | --- |
| 1st | Iwan Brew | Bro Gwaun |
| 2nd | Taran Parker | Preseli |
| 2nd | Morgan Price | Penrhyn Dewi |
| 3rd | Guillaume Evans | Penrhyn Dewi |
Grade 7 Brass
| | | |
| --- | --- | --- |
| 1st | Lucy Anthony | Greenhill |
| 2nd | Imogen Stace-Smith | Greenhill |
| 2nd | Nia Llewellyn | HHVC |
Grade Open Brass *
| | | |
| --- | --- | --- |
| 1st | Rhys Evans | Milford Haven |
| 2nd | Robbie Davies | Penrhyn Dewi |
| 3rd | Marilla Evans | Preseli |
Strings
Grade 3 Strings                                                       
| | | |
| --- | --- | --- |
| 1st | Megan Evans | Caer Elen |
| 2nd | Sabrina Semaani | Penrhyn Dewi |
| 3rd | Mia Burnett | HHVC |
Grade 4 Strings                                                       
| | | |
| --- | --- | --- |
| 1st | Sam Kelly | Penrhyn Dewi |
| 2nd | Esyllt Corp | Preseli |
| 3rd | Millie Evans-Thomas | Greenhill |
Grade 5 Strings
| | | |
| --- | --- | --- |
| 1st | Marilla Evans | Preseli |
| 1st | Ella Bromby | Greenhill |
| 2nd | Gwenna Maycock | Bro Gwaun |
| 3rd | Alonwy Roberts | Bro Gwaun |
| 3rd | Lara Whitfield | Preseli |
| H.C | Freya Prout | HHVC |
| H.C | Samantha Semaani | Penrhyn Dewi |
| H.C | Nivetha Athithan | HHVC |
Grade 6 Strings                               
| | | |
| --- | --- | --- |
| 1st | Tom Davies | Greenhill |
| 2nd | Taran Parker | Preseli |
| 3rd | Maisie Kite | HHVC |
| 3rd | Nia Morgan | Redhill School |
| H.C | Jenifer Rees | Redhill School |
| H.C | Daisy Whitfield | Preseli |
Grade 7 Strings            
| | | |
| --- | --- | --- |
| 1st | Bethan Freeman | Harri Tudur |
| 1st   | Eve Mathias | Preseli |
Grade Open Strings*
Piano/Harp
Grade 3 Piano/Harp                
| | | |
| --- | --- | --- |
| 1st | Sophie Lewis | Harri Tudur |
| 2nd | Toby Hounsell | Harri Tudur |
| 3rd | Dan Shinnee | HHVC |
Grade 4 Piano/Harp                
| | | |
| --- | --- | --- |
| 1st | Freya Prout | HHVC |
| 2nd | Tobias Edwards | HHVC |
| 3rd | Samantha Semaani | Penrhyn Dewi |
| 3rd | Sabrina Semaani | Penrhyn Dewi |
Grade 5 Piano/Harp           
| | | |
| --- | --- | --- |
| 1st | Nathan Howe | Penrhyn Dewi |
| 2nd | Esyllt Corp | Preseli |
| 3rd | Charlotte Lewis | Harri Tudur |
| 3rd | Marilla Evans | Preseli |
| HC | Jenifer Rees | Redhill |
Grade 6/7 Piano/Harp                                
| | | |
| --- | --- | --- |
| 1st | Eliza Bradbury | HHVC |
| 2nd | Jencyn Corp | Preseli |
| 3rd | Nell Evans | Preseli |
| H.C | Declan Connellan | Harri Tudur |
| H.C | Imogen Grimes | Pembrokeshire College |
Open Piano/Harp *
| | | |
| --- | --- | --- |
| 1st | Lefi Dafydd | Preseli |
| 2nd | Isabel Howe | Penrhyn Dewi |
| 2nd | Awen Davies | Preseli |
| 3rd | Seren Phillips | Preseli |
| H.C | Elyse Edwards | HHVC |
| H.C | Rhys Lewis | HHVC |
Vocal
Musical Theatre and Classical Vocal Years 7-9
| | | |
| --- | --- | --- |
| 1st | Niko Solomon | Milford Haven |
| 2nd | Molly James | Preseli |
| 3rd | Mared Phillips | Preseli |
| 3rd | Grace Griffiths | Bro Gwaun |
| H.C | Gwenna Maycock | Bro Gwaun |
Popular Vocal Years 7-9                           
| | | |
| --- | --- | --- |
| 1st | Megan Thomas | Harri Tudur |
| 2nd | Holly Pyart | Milford Haven |
| 3rd | Cadi Moore | Preseli |
| HC | Alicia Thomas | Milford Haven |
Popular Vocal Years 10-13                                   
| | | |
| --- | --- | --- |
| 1st    | Cerys Grant | Pembrokeshire College |
| 2nd  | Phebe Salmon | Bro Gwaun |
| 3rd   | Jadie Dyne | Harri Tudur |
| HC   | Lily Coles | HHVC |
| HC | Abi Griffiths-McCaffrey | HHVC |
Musical Theatre & Classical Vocal Years 10-13    
| | | |
| --- | --- | --- |
| 1st | Phebe Salmon | Bro Gwaun |
| 2nd | Nancy Mason-Hoskins | Bro Gwaun |
| 3rd | Lily Meddings | Penrhyn Dewi |
| H.C | Seren Thorne | Bro Gwaun |
Open Vocal Ensemble*     
| | |
| --- | --- |
| 1st | Harri Tudur Vocal Group |
| 2nd | HHVC Yr 11 Trio |
| 3rd | HHVC Vocal Trio |
Open Vocal *                                              
| | | |
| --- | --- | --- |
| 1st   | Phebe Salmon | Bro Gwaun |
| 2nd  | Megan John | HHVC |
Ensemble
Ensemble Grade 5-
| | |
| --- | --- |
| 1st | HHVC Lower School Trio |
| 2nd | HHVC Piano trio |
| 3rd | Greenhill String Quartet |
| HC | Milford Haven Wind Ensemble |
Grade 6-8 Ensemble    
| | |
| --- | --- |
| 1st | HHVC String Ensemble |
| 2nd | HHVC Clarinet Trio |
Instrumental Duo                                                    
| | |
| --- | --- |
| 1st | HHVC Violin and Harp Duet |
| 2nd | HHVC Clarinet Duet |
| 3rd | HHVC Piano Duet |
Open Instrumental Ensemble*
| | |
| --- | --- |
| 1st   | HHVC Cello Trio |
| 2nd  | HHVC Flute Trio |
| 3rd   | HHVC Flute Choir |
Percussion
Kit Percussion Grade 3-7              
| | | |
| --- | --- | --- |
| 1st | Oliver Haltham | Castle School |
| 2nd | Lewis Williams | Penrhyn Dewi |
| 3rd | Iolo Evans | Bro Gwaun |
| HC | Callum Cunnea | Harri Tudur |
Open Percussion*              
| | | |
| --- | --- | --- |
| 1st | Carys Underwood | Preseli |
| 2nd | Dylan Sanders-Swales | Milford Haven |
| 3rd | Imogen Stace-Smith | Greenhill |
Jazz
Grade 3-5
Open Jazz*                   
| | | |
| --- | --- | --- |
| 1st | Sara Llewellyn | HHVC |
| 2nd | Jake Scott | HHVC |
| 3rd | Dylan Sanders-Swales | Milford Haven |
| HC | Caitlyn Arran | Milford Haven |
| HC | Nia Llewellyn | HHVC |