Pembrokeshire Community Hub continues to offer support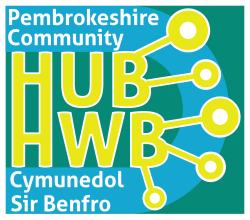 Now that winter has arrived and Christmas is only weeks away, the Pembrokeshire Community Hub wants to remind everyone that it is still open and ready to support people whose lives are being affected by the COVID pandemic and who do not have anyone in their life who can support them.
If you have been told to self-isolate after testing positive or having had contact with someone who has tested positive and cannot undertake tasks such as shopping or collecting prescriptions, and don't have anyone who can help, then the Pembrokeshire Community Hub can support you to find a solution.
Likewise, if you are feeling anxious or worried because you are at additional risk if you get COVID and this is affecting your wellbeing, the Pembrokeshire Community Hub may be able to connect you with local community support.
Working alongside local organisations and community groups, the Community Hub recognises that this can be a difficult time of the year for many people and wants people to know that there is support available.
Sometimes this can be as simple as talking to someone about what shopping options are available to them, to collecting prescriptions and putting people in contact with services that can support with emotional wellbeing and financial support.
Cabinet Member for Social Services, Cllr Tessa Hodgson said: 'The Community Hub is a perfect example of collaborative working with incredible results – and I would like to praise those who have worked tirelessly to keep the Hub running.
'The coronavirus pandemic is the biggest challenge many of us have ever faced. But by working together we can ease the burden on some of those facing the biggest difficulties. I would like to thank this amazing team who have helped the most vulnerable in our communities to receive the support they need.'
Set up in March 2020 to provide a community crisis response, the Pembrokeshire Community Hub brings together Pembrokeshire County Council, Pembrokeshire Association of Voluntary Services, Volunteering Matters and Hywel Dda University Health Board.
Over the festive period, the Hub will be open:
9.00 - 5.00 – week days up to and including Thursday 23 December
9.00 – 4.00 – Friday 24 December
9.00 – 4.00 – Wednesday 29 December
9.00 – 4.00 – Thursday 30 December
9.00 – 4.00 – Friday 31 December
9.00 – 5.00 – Tuesday 4 January onwards (weekdays)
If you need support during the pandemic because you are self-isolating you can contact the Pembrokeshire Community Hub on 01437 776301 or communitycovid19@pembrokeshire.gov.uk
ID: 8420, revised 15/12/2021