New cultural centre proves huge hit with the public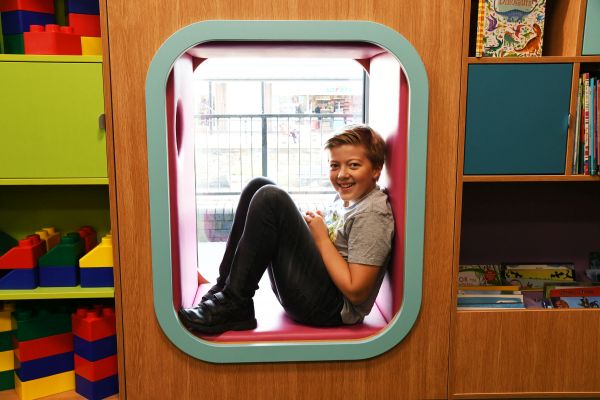 Glan-yr-afon/The Riverside - Haverfordwest's new flagship cultural centre - is proving to be a huge success with the public.
Figures just released reveal that it attracted over 30,000 visitors in January alone - the facility's first full month of operation.
This is up by over 25,000 - 520 per cent - on the January 2018 figure for the temporary library off Dew Street.
Visitors to the exciting new development, on the town's riverside, have now topped 75,000 since it opened its doors in December 2018.
The number of new library members has also rocketed.
In January it was 824 compared with just 48 twelve months previously.
Significant increases have also been seen in the borrowing of books for both adults and children, as well as the use of Welsh Language materials.
Pembrokeshire County Council's Cabinet Member for Economy, Tourism, Leisure and Culture, Paul Miller, said: "Glan-yr-afon/The Riverside is a fantastic facility for both Haverfordwest and Pembrokeshire as a whole.
"If you haven't visited yet I really would encourage you to make the trip.
"We are determined to make Haverfordwest vibrant again and Glan-yr-afon/The Riverside is just the first piece of the wider masterplan to re-invigorate the town."
The development - which opened in early December - includes a library, gallery, visitor information and coffee shop, and is the result of an exciting partnership between Pembrokeshire County Council and The National Library of Wales. 
The venue's gallery is currently hosting two exciting exhibitions produced by The National Library of Wales, showcasing items of both local and national importance.
Kyffin Williams: Land and Sea, which runs until May 2019, features a fantastic collection of work from one of Wales' most famous artists Sir Kyffin Williams to celebrate the centenary of his birth.
The Story of Pembrokeshire is a permanent exhibition focusing on the history, culture, arts and legends of Pembrokeshire, told through original manuscripts, letters, posters, paintings and photographs from The National Library of Wales collections.
Funding to build the facility came from a range of sources including Pembrokeshire County Council, Welsh Government, the Wolfson Foundation, the Foyle Foundation, and Pembrokeshire Coast National Park Authority.
Haverfordwest Town Council has given a five-year funding package to ensure the library is able to open throughout the year on Saturday afternoons, the previous library having been open on Saturday mornings only.
For more information, log on to www.pembrokeshire.gov.uk/the-riverside, visit the Pembrokeshire Libraries Facebook page at www.facebook.com/PembrokeshireLibraryService, or call Glan-yr-afon/The Riverside on 01437 775 244.