Mount estate team shortlisted for national award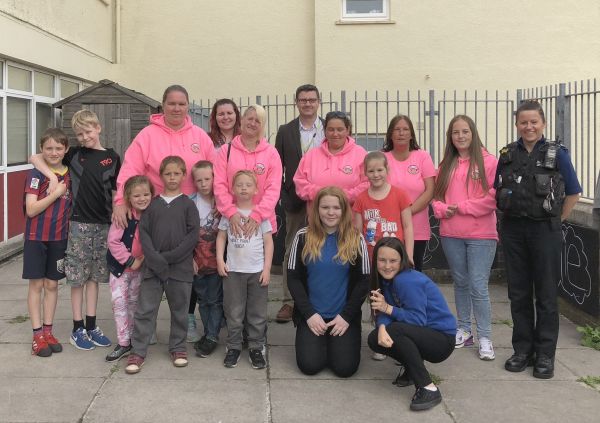 Take five parent volunteers. Lots of children. One estate. Provide training, inclusivity, accessibility. What do you get?
The Mount Estate Parent Play Team (MEPPT) - Sarah Howlin
Catrin Tattersall, Kimberly Phillips, Leeanna Povey and Linda Rose.
MEPPT have completed accredited training to gain essential skills and experience, and are leading the way in delivering high-quality play provision on their estate, following the disbanding of an external play project.
And their achievements have already led to them being shortlisted for a national award.
Damian Golden and his colleague Nia Davies from Pembrokeshire County Council nominated the parents as they were so impressed with what the team had achieved in a relatively short amount of time - beginning to make a difference for the children and play opportunities on the estate.
"MEPPT are the definition of community action," said Damian, Play Sufficiency Officer.
"They have shown admirable perseverance ensuring everything is in place to create solid foundations. By doing this, they have greatly enhanced the lives of children and families in the community."
The team are shortlisted in the Community Action Award category in this year's TPAS's Good Practice Event & Tenant Participation Awards 2018. 
"Being shortlisted for the Community Action award is a huge achievement for MEPPT," said Nia, Community Liaison Officer.
"We are delighted that their hard-work and dedication is receiving the acknowledgement it deserves. No matter what the outcome of the awards ceremony, they all really are true winners!"
The Mayor of Milford Haven, Cllr Rose Gray, said: "What's been achieved by the group is quite simply incredible.
"They are giving up their time to allow the children in their community to play in a safe and nurturing environment. I went along with my children who were immediately made to feel welcome.
"I would encourage anyone living on the Mount estate with children to pop along where I have no doubt you will receive a warm welcome."
The Mount Estate Parent Play Team will be attending the Gala event on July 5th in Cardiff.
Caption
Pictured with local children are the Mount Estate Parent Play Team (Sarah Howlin, Catrin Tattersall, Kimberly Phillips, Leeanna Povey, and Linda Rose), the Mayor of Milford Haven Cllr Rose Gray, Damian Golden and PCSO Stacy Thomas.