Launch of Month-Long Crucial Crew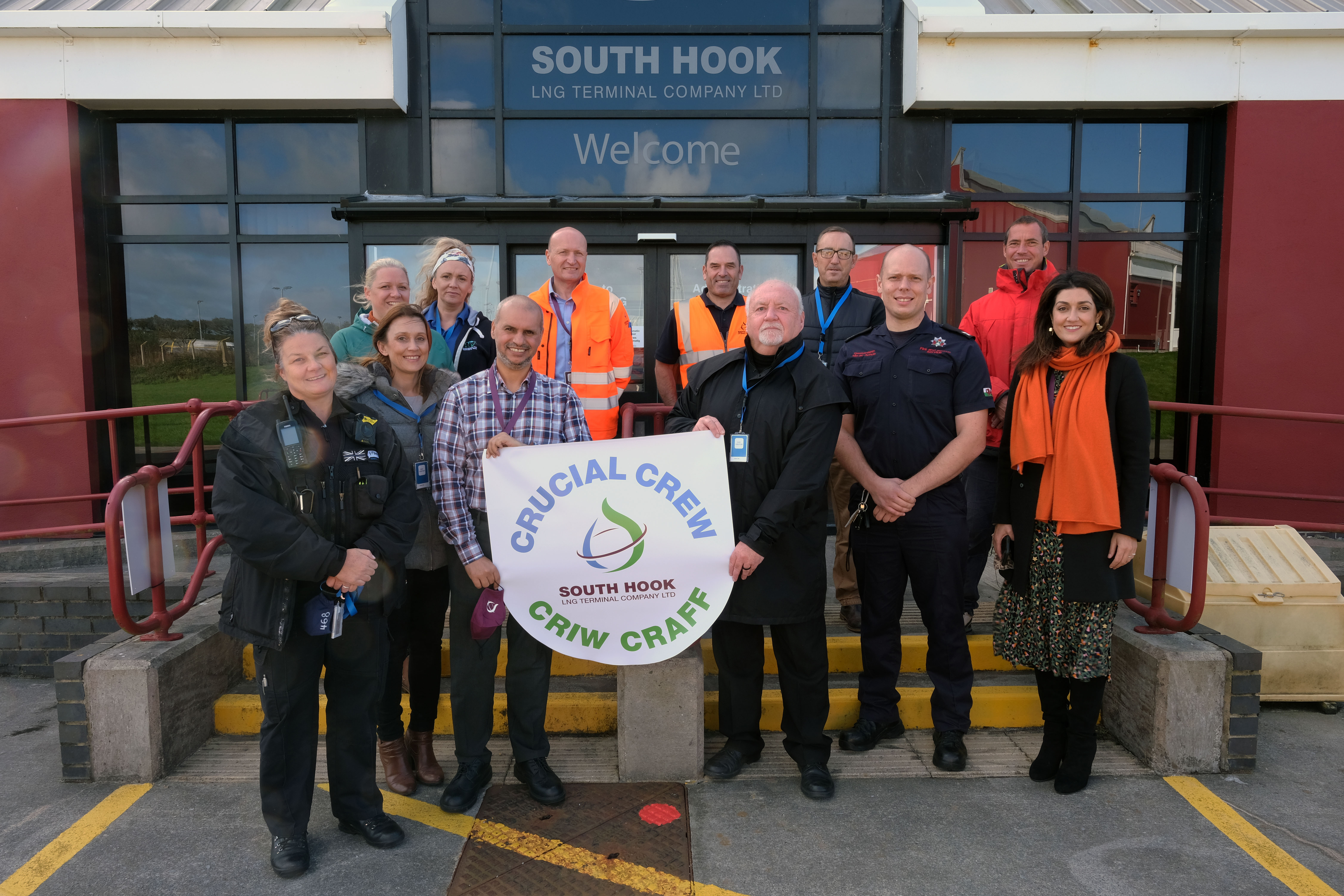 Partner Agencies gathered at South Hook LNG recently, for the launch of what will be a month-long safety campaign with local schools, during November.
Working in partnership with the financial support of South Hook, Pembrokeshire County Council is once again bringing together teams from Road Safety, School Transport, Domestic Abuse Services, Food Safety/ Food Standards Agency, Dyfed Powys Police, Mid and West Wales Fire Service, Welsh Ambulance Services, RNLI, Western Power and Network Rail, providing focused safety learnings to around 1400 of our County's school children.
Being held via video learning for the second year, schools are being encouraged to include Crucial Crew in classroom discussions, throughout November. Films from each of the Agencies provide valuable safety messages, for a range of situations in which youngsters may find themselves; from first aid and bus safety to staying safe online and whilst in the vicinity of railway tracks. A visit will be arranged for each school from a partner agency in the month of November to support their learning.
"Safety is our priority in everything that we do at the Terminal, so South Hook is proud to be a long-time supporter of Crucial Crew and the important safety education that it brings to so many local young students each year" commented Hamad Al Samra, General Manager at South Hook LNG Terminal.
As part of this year's Crucial Crew, a competition will also be launched, asking children to design a poster, highlighting some of their memorable safety learnings. Prizes will be given to both the students and the school, with the poster being used for launch of the 2022 Crucial Crew event.
County Councillor Phil Baker, Cabinet Member for Infrastructure, Licensing and Major Events said  "Pembrokeshire County Council is very proud to be a partner of Crucial Crew.   We are saddened that once again we are unable once teach the pupils face to face, but grateful that through the HWB platform the partners are able to share their essential safety messages to local students throughout Pembrokeshire."
He added "The Crucial Crew 2021 event, would not be possible without the dedication of the agencies and their staff, school staff and  the continued support of South Hook LNG- which we are very thankful for.'"
Caption: Hamad Al Samra, General Manager of South Hook and members of his team welcome County Councillor Phil Baker and partner Agencies to the Terminal.