High Flying Opportunities for young people in Pembrokeshire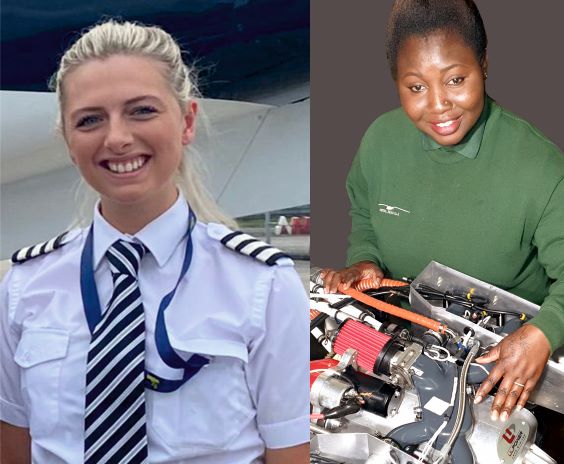 In order to help celebrate International Women's Day a competition for young people living and/or studying in Pembrokeshire has been announced. 
Pembrokeshire County Council, in collaboration with University of Wales Trinity Saint David, Aerospace Wales Forum, Haverfordwest Airport, Fly Wales and Metal Seagulls, have put together a one-week programme to celebrate the amazing women involved in STEM careers in South-West Wales, and to promote career opportunities.
Entrants from primary school to 18 years are invited to submit a single side A4 sheet that represents their view of aviation/engineering/gender equality by 1st February. 
Winners in each category will be invited to spend two hours at Haverfordwest Airport during the week commencing 6th March, where they will have the opportunity to meet just some of the women making successful careers in aviation and find out about study and career opportunities available to them. 
Winners will also be given an exciting opportunity to sit in an aircraft, participate in hands-on mechanical and electrical/electronic activities, see 3D print engineered components, discuss career paths, and take away inspiration for themselves for their futures. 
Patricia Porter, pilot, aircraft inspector, aircraft engineer and co-director of the company Metal Seagulls, based at Haverfordwest Airport said: "We are delighted to be working as part of this collaboration to offer an insight into some of the careers open to students in Aviation and Engineering.  Women in particular are hugely under-represented in the industry and we are keen to look at how we can address this and demonstrate the wealth of opportunities available to all students right here in Pembrokeshire."
Furthermore, there will be a live interactive webcast from UWTSD campus in Swansea on Wednesday, 8th March highlighting women and courses in STEM that may help to open up career paths.
The web-cast will be made available to schools, colleges and individuals as a resource, helping to promote gender equality in STEM careers.
It is hoped that ALL competition entrants will be invited to an airport open day at a later date in 2023.
For further information visit: www.facebook.com/PembrokseshireIWD2023 The Competition closes on 1st February 2023, entries can be posted to Haverfordwest Airport, Fishguard Road, Haverfordwest, SA62 4BN or email j.walker@uwtsd.ac.uk
Pictured Patricia Porter from Metal Seagulls and Charlotte Rees of Fly Wales.
ID: 9540, revised 24/01/2023