Couple hail exercise scheme that has transformed lives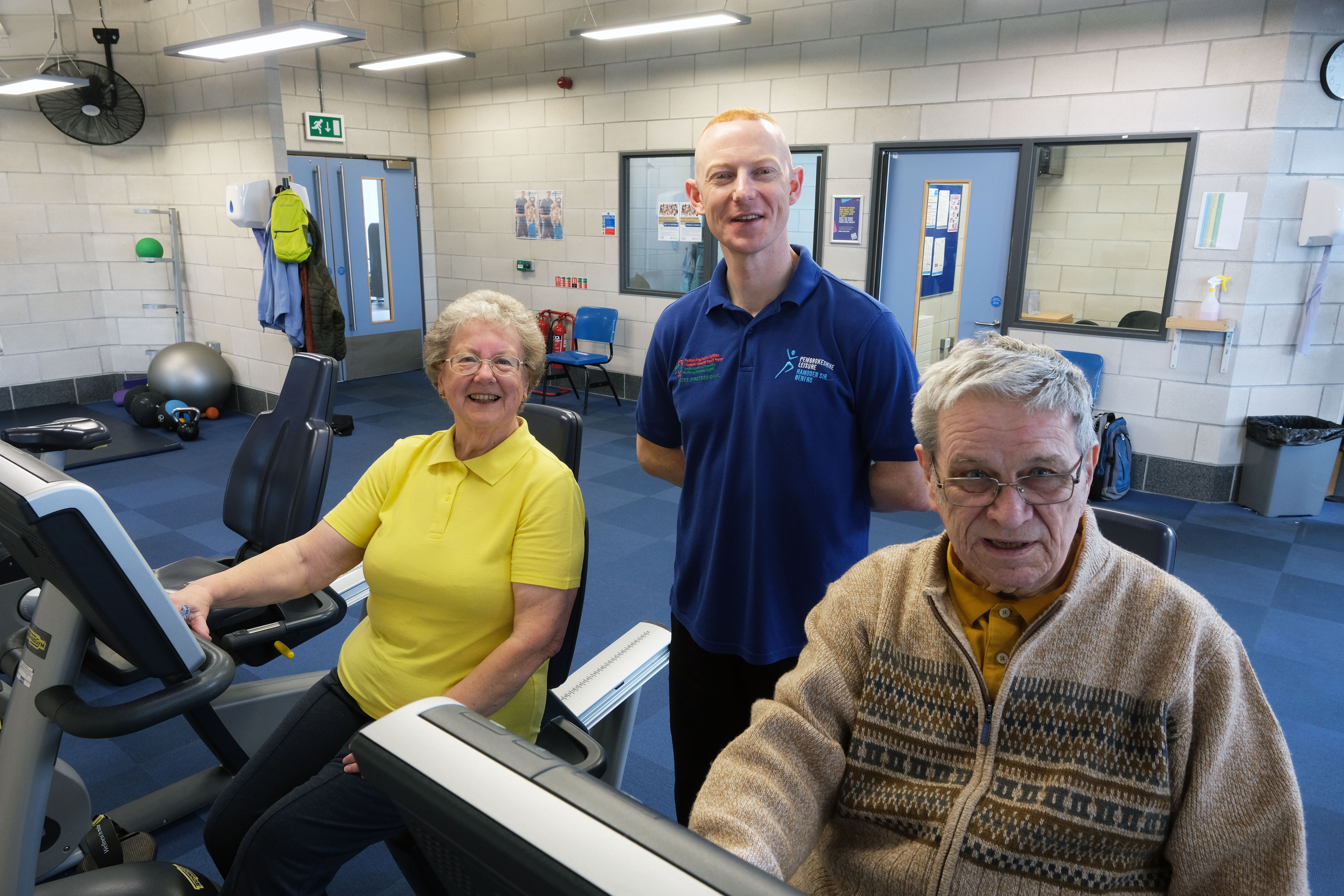 A couple have hailed the positive impact of an exercise scheme that has helped them maintain independence and continue to enjoy life.
Richard and Gwenda Innes from Pentlepoir were separately referred to the National Exercise Scheme in 2022 and took up a 16 week programme.
The scheme, run by Public Health Wales and delivered in Pembrokeshire Leisure Centres, aims to help people rehabilitate from and live with a range of different medical conditions, maintain general health, improve functional capacity and improve quality of life through structured activity.
Benefits include; reduced blood pressure, reduced cholesterol levels, increased mental and social well-being, reduced risk of heart disease and strokes, increased strength, mobility, coordination and balance, improved energy levels, reduced stress, anxiety and depression. Weight loss or weight gain, where appropriate, are also benefits.
Gwenda, 77, is awaiting a knee replacement operation and needed to strengthen the muscles around the knee and lower leg.
Richard, 79, had lost confidence in standing and walking after a series of falls.
Both were referred to the scheme at Tenby Leisure Centre and placed under the supervision of Exercise Referral Professional Tom Delaney.
The couple were prescribed a personalised training plan to ensure that the exercises were safe and effective.
This includes using a treadmill, exercise bike and other equipment under supervision with the aim of clients working independently over time.
The result for both has been remarkable.
Tom said: "Richard has lost over a stone and gained confidence, his ability to carry out day to day movements has improved. As he approaches his 80th birthday he is proof that it's never too late to make positive changes.
"Gwenda has lost over two stone and has developed muscular strength, her lower limbs are now stronger which has improved her knee function. Her increased aerobic fitness and improved knee function has enabled her to do things that she hasn't done for years, walking up hills - Gwenda thought that this wouldn't be possible again.
"Giving clients like Richard and Gwenda the confidence and competence to get active highlights how important the scheme is.
"Not only helping people live longer happier lives; fitter healthier clients have a reduced need for medical treatment and hospitalisation."
Gwenda said the difference in Richard especially was significant and both were continuing to exercise at Tenby Leisure Centre following the end of the course: "Richard is now able to spend 15 minutes on the treadmill at a speed of 3.5kmph, set the bicycle on gear four for 15 minutes and then do a further 10 minutes on the hand bike.
"He is now almost confident to move around the bungalow without his walking stick and is also able to walk around the garden. He now comes with me shopping and walks around pushing the trolley."
Pembrokeshire County Council Cabinet Member for Residents' Services, Cllr Rhys Sinnett, said: "It is fantastic to hear this feedback on the way this scheme run in our Leisure Centres is helping people to lead their best possible lives.
"I would thank all the dedicated staff who are really making a difference to residents' lives.
"If you are interested in the scheme speak to your GP or other medical professional and ask about eligibility for the exercise referral scheme."
Clients can access the exercise referral scheme in all of the main Pembrokeshire Leisure Centres at Haverfordwest, Milford Haven, Pembroke, Tenby, Fishguard and Crymych.  
Clients receive on-going support and encouragement from their instructor throughout their time on the scheme, although the ultimate aim is long term independent exercise.
There is a cost for each session which has been subsidised to enable more people to access the sessions.
More information can be found on the Pembrokeshire County Council website.
ID: 10182, revised 23/05/2023