County Council Wins 'Inspirational Employer' Award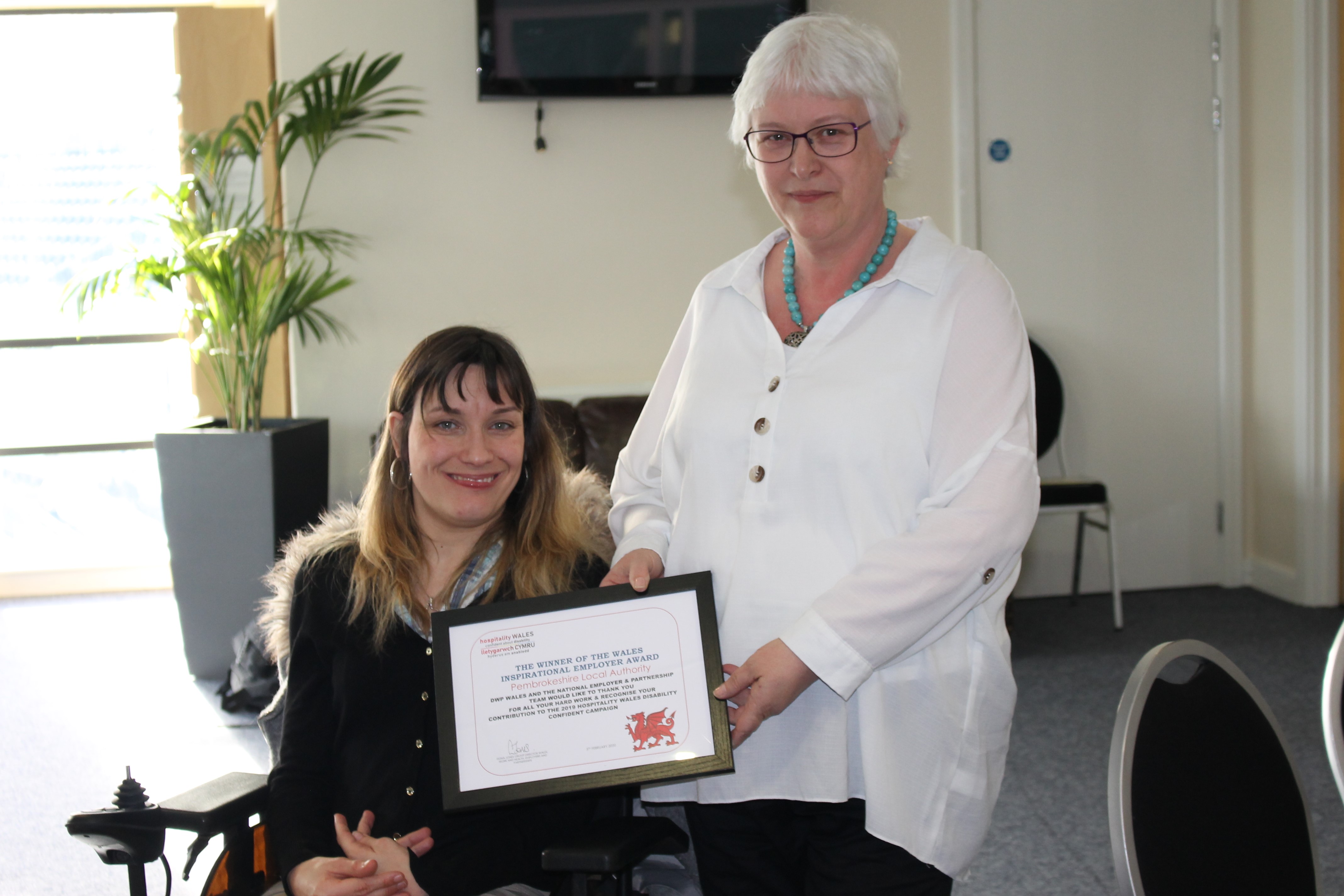 Pembrokeshire County Council has been named an 'Inspirational Employer' at a ceremony in Cardiff for Welsh employers.
The award was presented on Wednesday (5th February) by the Department of Work and Pensions (DWP).
It recognises the Council's achievement not only in becoming the first local authority in Wales to achieve the Disability Confident Leader status but also the work that it has done through Norman Industries and Workways+ to support people with disability and long term health conditions to gain paid work.
Norman Industries is the Haverfordwest-based factory employing people with disabilities.
The award was collected by Karen Davies - project manager for the Council's supported employability projects - and Rachel Bailey who was a Workways+ participant but now works for the Authority as a Learning Disability Champion for Employability.
The journey to Disability Confident Leader began when Rachel - who has cerebral palsy – gave a presentation at a DWP conference in December 2018 about the work she has been doing to promote employment for people with learning disabilities.
The process culminated in the Council achieving Disability Confident Leader status in September 2019.  
Through this process the County Council was able to demonstrate the extensive support that it provides both in its own workforce and through projects like Norman Industries and Workways+.
Said Karen: "Becoming a Disability Confident Leader was the culmination of a lot of work by a number of people including the Council's Human Resources department.
"Pembrokeshire County Council is definitely leading the way in employing people with disability with over 60 people working within Norman Industries and Workways+ alone.
"We have been able to demonstrate the benefit of employing people with disability and there is now interest across the council to open up employment opportunities.
Rachel revealed that working at Norman Industries had given her a lot more confidence.
She explained: "It has provided me with a purpose to be able to work.  I really enjoy going out to events and I like getting the message across to people that being employed with disabilities and learning disabilities means that it is achievable."
The inaugural Disability Confident awards attracted nominations from across Wales for employers and organisations who have shown outstanding commitment to the Disability Confidence campaign.
The Council was nominated by Alyson Phillips, DWP's Partnership Manager in Pembrokeshire.
Workways+ is part-funded by the European Social Fund through the Welsh Government.
RACHEL'S STORY
In September 2018 Rachel was a participant of Workways+.  She really wanted a job – her first ever paid job – and worked with her Employment Mentor to consider work opportunities.
When the opportunity to become a Learning Disability Champion came up, it seemed like a good match.
Rachel does not have learning disabilities but her physical disability means that she understands the issues. With the help of her mentor Rachel applied for the job.
Due to her pronounced speech impediment, the team at Norman Industries needed to amend the interview process to ensure that Rachel had a fair chance to demonstrate her ability in the interview. 
Having accepted the offer, the team then worked with Rachel and Access to Work to ensure that she had the support both with physical adaptations and support in work to ensure she could do the job.
Caption
Rachel and Karen are pictured with the award.