Book a lift not a hearse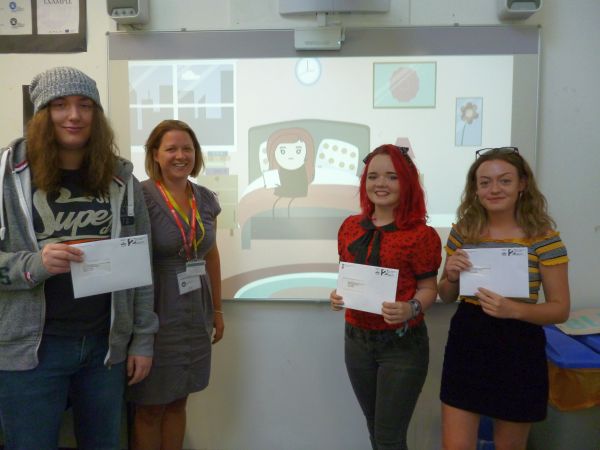 Students from Pembrokeshire College Creative Media Course have once again been commended by the Road Safety Team at Pembrokeshire County Council for their outstanding animations highlighting the dangers of driving under the influence of drink and drugs.
Winner Robyn Clift called upon her artistic talent to remind everyone that you have choices on how to get home safely when drinking alcohol.
Her winning title aptly called 'come home safely' graphically shows the consequences for the driver, their family and people around them if they drink and drive.
Lauren Roberts and James Davies were runners up with 'Cut out drinking' and 'Life isn't a Game'.
Lauren's cut-out newspaper style animation displays important facts and figures to help raise awareness of the potential consequences, while James' retro style video game animation is light-hearted and engaging, incorporating the important message that our actions have real life consequences.
Denys Bassett Jones Creative Media Course Leader at Pembrokeshire College said:
"Once again I was delighted to see the talents of my learners being recognised by the Pembrokeshire road safety team.
"Live projects of this kind are an important part of the Creative Media course, and helps the students learn about professional practice when dealing with clients.
"The dangers of driving whilst under the influence of drugs and alcohol is still an issue that needs to be tackled, so we are pleased to be able to support the valuable work of Pembrokeshire County Council through a creative project".
Pembrokeshire County Council Road Safety Officer Kirstie-Anne Donoghue, added "Deciding to drive whilst impaired can have serious life changes consequences for the driver, passengers or other road users.
"It is important to continually raise awareness of drinking and drug Driving and the students at Pembrokeshire College have taken on this challenge to educate people who they might be sharing the road with"
"There is no safe limit – don't drink and drive or take drugs and drive.
"If you're going out, plan ahead. How will you be getting home'?
"It's better to book a taxi than a Hearse".
All three videos can be found on Pembrokeshire County Councils Social Media Channels and will be used during this year's Summer Drink Drive campaign and again during the Christmas Drink Driving campaign to help remind drivers to never drive under the influence of alcohol or drugs.
Robyn Clift
Lauren Roberts
James Davies
Caption
Pictured left to right James Davies, Kirstie –Anne Donoghue, Robyn Clift and Lauren Roberts.