Your Online Council Account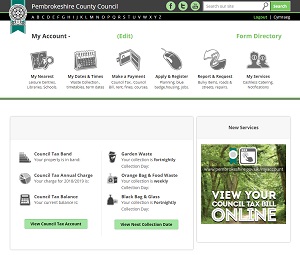 Why should I register for My Account?
Using our online services will save you time and money and you can contact us in your own time from the comfort of your own home.
What will I need to register?
All you need to be able to register is an email address.
How do I register?
Registering for an account is easy and only takes a couple of minutes.
1)  Complete the Registration Form, enter the security number and click on Create my Account.
2)  You will then be sent an email to verify your My Account registration.  Please check your email account and verify your registration.
3)  Once verified, you can login and register for the services you require.
What services are available online?
When you register for My Account you will be able to securely access the following services:
Notifications:-
Request:-

Report:

Pay:
Apply for:

Find your nearest:
More Council services and online facilities are being added all the time.
What if I don't get an email to activate my online account?
If you do not receive an email to activate your account, check that the email hasn't gone directly into your 'spam or junk' folder. If not, please contact us via email digital@pembrokeshire.gov.uk
I am having trouble logging in
To login you will need to use the email address and password that you entered when you created your account.
You must activate your account by clicking on the link in the email that we sent you when you created your account before you login for the first time.
I have forgotten my password. What do I do now?
It's easy to reset your password.
1)    Go to the login screen and click on - Forgotten your password. 
2)    Enter your email address and we'll send you an email with instructions for resetting your password. 
3)    You will be asked to answer the security question you selected upon registration.
I have forgotten my password and the answer to my secret question.
Please contact us by email digital@pembrokeshire.gov.uk and we will help you to reset your account.
I no longer have access to the email address I used to create My Account.
You can create a new account using a different email address, and register again for the services which you would like to view.
How do I delete my account?
Please contact us by email digital@pembrokeshire.gov.uk using the email address you registered with to request for your account to be deleted.
How do I report a problem?
If you experience any problems using My Account or need help with your online use, please contact us by email and we will reply to you as soon as possible.
digital@pembrokeshire.gov.uk 
How do I change my language or communication preferences?
You can change your language or communication preferences by clicking the 'edit' link next to your name once you are logged in.
Will I receive information in English or Welsh?
We will provide information in the language you have registered for in My Account (i.e. English or Welsh).