Appendices Local Toilet Strategy
Appendix - A – List of traditional public toilets managed and maintained by Pembrokeshire County Council
Abercastle
Postcode: SA62 5HJ
Disabled: No
Baby Changing: No
Summer Opening*: Dawn to Dusk
Winter Opening*: Closed 1st November to mid February, open Christmas holiday period
Pay to use: No
Abereiddy
Postcode: SA62 6DT
Disabled: No
Baby Changing: No
Summer Opening*: Dawn to Dusk
Winter Opening*: Dawn to Dusk
Pay to use: No
Amorth East
Postcode: SA67 8NN
Disabled: No
Baby Changing: No
Summer Opening*: Dawn to Dusk
Winter Opening*: Closed 1st November to 31st March
Pay to use: No
Amroth West
Postcode: SA67 8NE
Disabled: Yes
Baby Changing: Yes
Summer Opening*: 24 hours
Winter Opening*: 24 hours
Pay to use: No
Angle, West Angle Beach
Postcode: SA71 5BE
Disabled: No
Baby Changing: No
Summer Opening*: Dawn to Dusk
Winter Opening*: Dawn to Dusk
Pay to use: No
Bosherston
Postcode: SA71 5DN
Disabled: Yes
Baby Changing: No
Summer Opening*: 24 hours
Winter Opening*: 24 hours
Pay to use: No
Broad Haven, North CP
Postcode: SA62 3JJ
Disabled: Yes
Baby Changing: No
Summer Opening*: 24 hours
Winter opening*: Closed 1st November to 31st March
Pay to use: No
Broad Haven, South CP
Postcode: SA62 3JR
Disabled: Yes
Winter Opening*: 07:00 - 18:00
Pay to use: Yes
Burton, Jolly Sailor CP
Postcode: SA73 1NX
Disabled: Yes
Baby Changing: No
Summer Opening*: Dawn to dusk
Winter Opening*: Closed 1st November to 31st March
Pay to use: No
Carew
Postcode: SA70 8SP
Disabled: Yes
Baby Changing: No
Summer Opening*: 24 hours
Winter Opening*: 24 hours
Pay to use: No
Cilgerran, Picnic Site
Postcode: SA43 2SS
Disabled: Yes
Baby Changing: No
Summer Opening*: 24 hours
Winter Opening*: 24 hours
Pay to use: No
Creswell Quay
Postcode: SA68 0TE
Disabled: Yes
Baby Changing: No
Summer Opening*: 24 hours
Winter Opening*: 24 hours
Pay to use: No
Cwm yr Eglwys
Postcode: SA42 0SN
Disabled: Yes
Baby Changing: No
Summer Opening*: 24 hours
Winter Opening*: Closed 1st November to mid February open Christmas holiday period
Pay to use: No
Dale
Postcode: SA62 3RJ
Disabled: Yes
Baby Changing: No
Summer Opening*: 24 hours
Winter Opening*: 24 hours
Pay to use: No
Felindre Farchog (Trunk Road)
Postcode: SA41 3UU
Disabled: Yes
Baby Changing: No
Summer Opening*: 24 hours
Winter Opening*: 
Pay to use: No
Fishguard, Lower Town
Postcode: SA65 9NB
Disabled: No
Baby Changing: No
Summer Opening*: Dawn to Dusk
Winter Opening*: Dawn to Dusk
Pay to use: No
Fishguard, Ffordd yr efail
Postcode: SA65 9AR
Disabled: Yes
Baby Changing: Yes
Summer Opening*: 06:00 - 22:00
Winter Opening*: 06:00 - 19:00
Pay to use: Yes
Fishguard, West Street
Postcode: SA65 9NL
Disabled: Yes
Baby Changing: Yes
Summer Opening*: 06:00 - 19:00
Winter Opening*: 06:00 - 19:00
Pay to use: Yes
Freshwater East
Postcode: SA71 5LN
Disabled: Yes
Baby Changing: No
Summer Opening*: 24 hours
Winter Opening*: 24 hours
Pay to use: No
Goodwick, The Parrog CP
Postcode: SA64 0DE
Disabled: Yes
Baby Changing: No
Summer Opening*: 24 hours
Winter Opening*: 24 hours
Pay to use: No
Haverfordwest, Castle Lake CP
Postcode: SA61 2DT
Disabled: Yes
Baby Changing: No
Summer Opening*: 07:00 - 19:30
Winter Opening*: 07:00 - 19:30
Pay to use: No
Haverfordwest Multi storey CP (currently temporary provision provided)
Postcode: SA61 2LJ
Disabled: Yes
Baby Changing: No
Summer Opening*: 07:00 - 19:30
Winter Opening*: 07:00 - 19:30
Pay to use: No
Johnston, Popehill (Trunk Road)
Postcode: SA62 3NX
Disabled: Yes
Baby Changing: No
Summer Opening*: 24 hours
Winter Opening*: 24 hours
Pay to use: No
Kilgetty, TIC
Postcode: SA68 0YA
Disabled: No
Baby Changing: No
Summer Opening*: 06:30 - 19:30
Winter Opening*: 06:30 - 19:30
Pay to use: No
Letterston
Postcode: SA62 5SB
Disabled: Yes
Baby Changing: No
Summer Opening*: 24 hours
Winter Opening*: 24 hours
Pay to use: No
Little Haven
Postcode: SA62 3UG
Disabled: Yes
Baby Changing: No
Summer Opening*: 24 hours
Winter Opening*: 24 hours
Pay to use: No
Llanstadwell, Hazelbeach
Postcode: SA73 1EG
Disabled: No
Baby Changing: No
Summer Opening*: 24 hours
Winter Opening*: Closed 1st November to 31st March
Pay to use: No
Maenclochog
Postcode: SA66 7LE
Disabled: No
Baby Changing: No
Summer Opening*: 24 hours
Winter Opening*: 24 hours
Pay to use: No
Manorbier Beach
Postcode: SA70 7SY
Disabled: Yes
Baby Changing: No
Summer Opening*: 24 hours
Winter Opening*: 24 hours
Pay to use: No
Marloes (village)
Postcode: SA62 3AZ
Disabled: Yes
Baby Changing: No
Summer Opening*: 24 hours
Winter Opening*: 24 hours
Pay to use: No
Milford Haven, Market Square
Postcode: SA73 2AE
Disabled: Yes
Baby Changing: No
Summer Opening*: 24 hours
Winter Opening*: 24 hours
Pay to use: No
Milford Haven, The Rath
Postcode: SA73 2QA
Disabled: Yes
Baby Changing: No
Summer Opening*: 24 hours
Winter Opening*: Closed 30th September 31st March
Pay to use: No
Moylegrove
Postcode: SA43 3BW
Disabled: Yes
Baby Changing: No
Summer Opening*: 24 hours
Winter Opening*: 24 hours
Pay to use: No
Narberth, Town Moor CP
Postcode: SA67 7AG
Disabled: Yes
Baby Changing: Yes
Summer Opening*: 24 hours
Winter Opening*: 24 hours
Pay to use: Yes
Nevern
Postcode: SA42 0NB
Disabled: No
Baby Changing: No
Summer Opening*: 24 hours
Winter Opening*: 24 hours
Pay to use: No
Newgale, Central CP
Postcode: SA62 6AS
Disabled: Yes
Baby Changing: No
Summer Opening*: 24 hours
Winter Opening*: 24 hours
Pay to use: No
Newgale South, Pebbles CP
Postcode: SA62 6AR
Disabled: No
Baby Changing: No
Summer Opening*: Dawn to Dusk
Winter Opening*: Closed 1st November to 31st March
Pay to use: No
Newport, Long Street CP
Postcode: SA42 0TJ
Disabled: Yes
Baby Changing: No
Summer Opening*: 24 hours
Winter Opening*: 24 hours
Pay to use: No
Newport Parrog, CP
Postcode: SA42 0RP
Disabled: Yes
Baby Changing: Yes
Summer Opening*: 24 hours
Winter Opening*: 24 hours
Pay to use: No
Newport, Traeth Mawr
Postcode: SA42 0NR
Disabled: Yes
Baby Changing: No
Summer Opening*: Dawn to Dusk
Winter Opening*: Dawn to Dusk
Pay to use: No
Neyland Marina
Postcode: SA73 1PY
Disabled: Yes
Baby Changing: No
Summer Opening*: 07:00 - 19:30
Winter Opening*: 07:00 - 19:30
Pay to use: No
Nolton Haven
Postcode: SA62 3NH
Disabled: No
Baby Changing: No
Summer Opening*: 24 hours
Winter Opening*: Closed 1st November to mid February open Christmas holiday period
Pay to use: No
Pembroke Dock Library
Postcode: SA72 6DW
Disabled: Yes
Baby Changing: Yes
Summer Opening*: 07:00 - 19:00
Winter Opening*: 07:00 - 19:00
Pay to use: Yes
Pembroke, Blackhorse Walk
Postcode: SA71 4HN
Disabled: No
Baby Changing: No
Summer Opening*: 07:00 - 19:00
Winter Opening*: 07:00 - 19:00
Pay to use: No
Pembroke, The Commons
Postcode: SA71 4EA
Disabled: Yes
Baby Changing: No
Summer Opening*: 07:00 - 19:00
Winter Opening*: 07:00 - 19:00
Pay to use: No
Pembroke, Town Quay
Postcode: SA71 4NR
Disabled: No
Baby Changing: No
Summer Opening*: 07:00 - 19:00
Winter Opening*: 07:00 - 19:00
Pay to use: No
Penally
Postcode: SA70 7PS
Disabled: Yes
Baby Changing: No
Summer Opening*: 07:30 - 21:00
Winter Opening*: 07:30 - 21:00
Pay to use: No
Penblewin CP (Trunk Road)
Postcode: SA67 7NY
Disabled: Yes
Baby Changing: No
Summer Opening*: 24 hours
Winter Opening*: 24 hours
Pay to use: No
Porthgain
Postcode: SA62 5BN
Disabled: Yes
Baby Changing: No
Summer Opening*: 24 hours
Winter Opening*: 24 hours
Pay to use: No
Pwllgwaelod
Postcode: SA42 0SE
Disabled: Yes
Baby Changing: Yes
Summer Opening*: 24 hours
Winter Opening*: 24 hours
Pay to use: No
Saundersfoot, Regency Hall CP
Postcode: SA69 9EN
Disabled: Yes
Baby Changing: Yes
Summer Opening*: 07:00 - 22:00
Winter Opening*: 07:00 -22:00
Pay to use: Yes
Solva, Lower Solva CP
Postcode: SA62 6UT
Disabled: Yes
Baby Changing: Yes (ladies only)
Summer Opening*: 24 hours
Winter Opening*: 24 hours
Pay to use: No
St Brides
Postcode: SA62 3AJ
Disabled: No
Baby Changing: No
Summer Opening*: 24 hours
Winter Opening*: 24 hours
Pay to use: No
St Davids, Bryn Rd, behind City Hall
Postcode: SA62 6QX
Disabled: Yes
Baby Changing: No
Summer Opening*: 24 hours
Winter Opening*: 24 hours
Pay to use: No
St Davids, Quickwell CP
Postcode: SA62 6PD
Disabled: Yes
Baby Changing: No
Summer Opening*: Dawn to Dusk
Winter Opening*: Closed 1st November to 31st March
Pay to use: No
St Davids, The Grove CP
Postcode: SA62 6NW
Disabled: Yes
Baby Changing: Yes
Summer Opening*: 24 hours
Winter Opening*: 24 hours
Pay to use: No
St Davids, Whitesands
Postcode: SA62 6PS
Disabled: Yes
Baby Changing: Yes
Summer Opening*: 24 hours
Winter Opening*: 24 hours
Pay to use: Yes
St Dogmaels, High St
Postcode: SA43 3ED
Disabled: Yes
Baby Changing: Yes
Summer Opening*: 24 hours
Winter Opening*: 24 hours
Pay to use: No
St Dogmaels, Poppit Sands
Postcode: SA43 3LR
Disabled: Yes
Baby Changing: No
Summer Opening*: 24 hours
Winter Opening*: 24 hours
Pay to use: No
St Ishmaels
Postcode: SA62 3TB
Disabled: No
Baby Changing: No
Summer Opening*: 24 hours
Winter Opening*: Closed 1st November to 31st March
Pay to use: No
Tenby, Butts Field (North Beach CP)
Postcode: SA70 8AG
Disabled: Yes
Baby Changing: Yes
Summer Opening*: 07:00 - 20:00
Winter Opening*: 07:00 - 20:00
Pay to use: Yes
Tenby, Castle beach
Postcode: SA70 8AG
Disabled: Yes
Baby Changing: Yes
Summer Opening*: 07:00 - 20:00
Winter Opening*: 07:00 - 20:00
Pay to use: Yes
Tenby, Multi Storey CP
Postcode: SA70 7LS
Disabled: Yes
Baby Changing: Yes
Summer Opening*: 07:00 - 21:00
Winter Opening*: 07:00 - 20:00
Pay to use: Yes
Tenby, North beach
Postcode: SA70 8AP
Disabled: Yes
Baby Changing: Yes
Summer Opening*: 07:00 - 20:00
Winter Opening*: Closed 1st November to 31st March
Pay to use: No
Tenby, South beach CP
Postcode: SA70 7EG
Disabled: Yes
Baby Changing: Yes
Summer Opening*: 07:00 - 20:00
Winter Opening*: 07:00 - 20:00
Pay to use: Yes
Tenby, The Green CP (Salterns)
Postcode: SA70 7NG
Disabled: Yes
Baby Changing: Yes
Summer Opening*: 07:00 - 20:00
Winter Opening*: 07:00 - 20:00
Pay to use: Yes
Tenby, Upper Frog Street
Postcode: SA70 7JD
Disabled: Yes
Baby Changing: No
Summer Opening*: 07:00 - 20:00
Winter Opening*: 07:00 - 20:00
Pay to use: No
Wisemans Bridge
Postcode: SA69 9AT
Disabled: Yes
Baby Changing: No
Summer Opening*: Dawn to Dusk
Winter Opening*: Dawn to Dusk
Pay to use: No
*Opening times correct at time of publication. For up-to-date times see Public Toilets Map 
Where a closure time of 1st November to 31st March is stated above, these times are extended if Welsh school holiday dates fall outside of these dates i.e. Easter and October half term, the facilities will be open to cover the duration of both holidays. 
Appendix B Map of traditional public toilets managed and maintained by Pembrokeshire County Council
Appendix C – National Toilet Logo
National Logo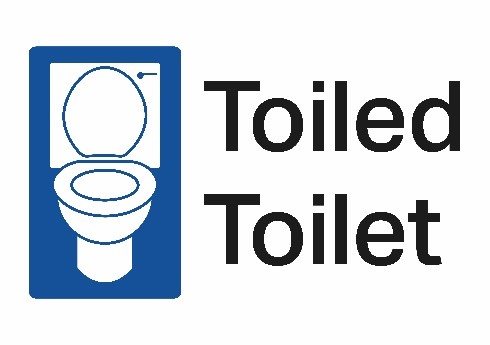 This is the national logo provided by Welsh Government to identify public toilets. We will ensure all our existing provision displays this logo and will ask that public toilets operated by others and any business/organisation who are willing to open up their toilets for general use also display this logo to encourage national recognition.
ID: 10313, revised 22/06/2023
Print