Brunel Trail
For a family day out why not follow the traffic-free Brunel Trail between Haverfordwest and Neyland, part of the Celtic Trail - National Route 4. This is a purpose built signed cyclepath with lovely views, embracing the solitude of open countryside.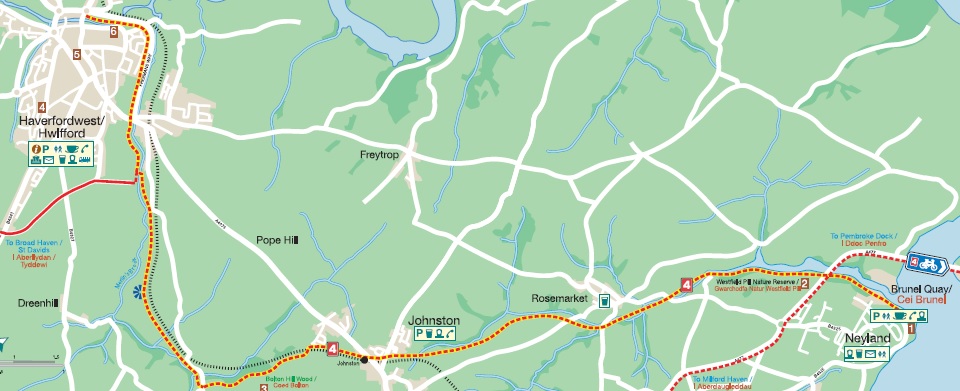 From Haverfordwest start at county hall car park and ride along Freeman's Way cycle path to Merlin's Bridge roundabout. Cross the roundabout, using the cycle crossings, and head up the road towards Pembrokeshire College.
Turn left onto the cycle path at the bottom of the hill. This section of cycle path rolls through the water meadows of Cinnamon Grove, through Bolton Hill woods and alongside the railway line to Johnston.
From Johnston, follow the Brunel Trail past Rosemarket along the route of the Great Western Railway, built by Isambard Kingdom Brunel 150 years ago. The path runs through the Westfield Pill Nature Reserve, a sheltered inlet from the Cleddau Waterway providing a sanctuary for birds and rare plants. The cycleway terminates at Brunel Quay, Neyland where a break for refreshments can be taken.
This is a popular shared use path so please expect to encounter other cyclists, walkers and wheelchair users. The path is wide and well surfaced with an abundance of wildlife in the undisturbed banks on either side of the route.
Mode cycle and walking with four sections of bridleway
Length 9 miles (14.48km) 1 1/4 hrs
Bike hire Mikes Bikes, 17 Prendergast, Haverfordwest, Tel: 01437 760068 Sales, Service, repairs and hire Enterprise Cycles, Unit 40, Honeyborough Ind Est, Neyland Tel: 01646 601014.
Attractions along the route
Brunel Quay - Brunel Quay and the town of Neyland were once home to Isambard Kingdom Brunel and the site of the Great Western Railway. The quay is now a relaxing marina.
Westfield Pill Nature Reserve - A sanctuary for hundreds of different species of birds and animals.
Bolton Hill Woods - Enjoy a ride through traditional broadleaf woodland and its secluded stream.
Haverfordwest - Enjoy a visit to this county town, whether you're looking for a relaxing break, some culture or history, Haverfordwest has something for everyone.
Haverfordwest Castle -The ruins of the medieval castle overlook the town, pay a visit to the town museum within its walls.
Haverfordwest Priory - The ruins of this priory stand on the west bank of the river Cleddau.